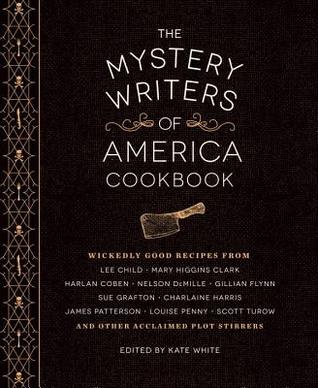 Title: The Mystery Writers of America Cookbook: Wickedly Good Meals and Desserts to Die For
Editor: Kate White
Format: Hardcover, 176 pages
Pub. Date: March 24th 2015
Source: Quirk Books



Book Description via Goodreads:




The Mystery Writers of America have joined forces to deliver this superb collection of more than 100 wickedly good recipes. From Mary Higgins Clark's Game Night Chili and Harlan Coben's Crab Meat Dip to Scott Turow's Innocent Frittata and Kathy Reich's Shrimp Scampi, this cookbook offers one tasty treat after another. Complete with a glamorous art-deco design and intriguing sidebars on the surprising—and sometimes deadly—links between food and foul play, this is the ultimate cookbook for crime aficionados.






Review:

★★★★★

Before I can even start my review of the actual book itself, I'd like to mention how beautiful this hardcover is. It's a textured cover with a cute pattern of skulls, knives, and forks on the side and a golden ribbon placeholder. It looks very old school murder mystery novel, which is a perfect homage considering what book this is!

The Mystery Writers of America Cookbook is a collection of recipes from dozens of just that- mystery authors. I'm familiar with more than a few of these authors (Charlaine Harris, Joelle Charbonneau, and Gillian Flynn to name a sample), and the ones I haven't heard of have still made an impact on the mystery genre. There's even a special bonus recipe from the one and only Richard Castle of the show "Castle" which I thought was a great touch.

The recipes are divided by course for easy navigation, and each course chapter has its own index so it's easy to find your favorite author or your favorite recipe, whichever it may be that you're looking for. There's also really cool facts and tips sprinkled throughout the book. But what's really awesome about these recipes is that they each have a back story. So many of them are pulled from the author's book- a character who made this dinner for another character or a character who owned a bakery, things like that. I love seeing fiction brought to real life like this, especially since more than once I have looked up recipes after reading a book (like The Hunger Games and Beautiful Disaster for example). If the recipe isn't from a book, there's still a nice personal story about why the author included it. It feels like I'm in a book club or something, like I'm really casually friends with these amazing writers who are giving me new dishes to try. It's a cool, cozy vibe to the whole book.

I also really like that at the end of the book, there's charts for weight/measurement conversions. That's a really overlooked thing in cookbooks, in my opinion. I wish there had been more pictures, but that being said there's a fair amount of photographs in here to help you along the way. Some of the dishes that I'm most looking forward to making are Male Chauvinist Pigs in the Blanket (Nelson DeMille), Grandma Maria's Pasta Puttanesca (Lorenzo Carcaterra), and Latvian Solstice Squares (William Burton McCormick). There's also a cocktails section, for the perfect night in.

Plus, proceeds go to the MWA, which is pretty cool too.

I think this book is fantastic, and any book lover (especially a mystery book lover) would love to have this recipe collection. I also think it'd make a perfect gift, due to both the delicious content and the gorgeous presentation.

Thanks so much to Quirk Books who provided me with a copy in exchange for my honest review.