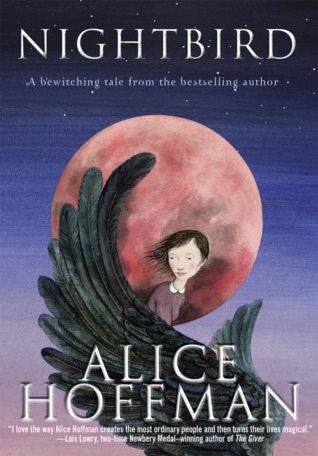 Title: Nightbird
Author: Alice Hoffman
Format: egalley
Pub. Date: March 10th 2015
Source: Wendy Lamb Books



Book Description via Goodreads:




"I love the way Alice Hoffman creates the most ordinary people and then turns their lives magical. . . . [Nightbird] is like reentering a wonderful dream that you vaguely remember." —Lois Lowry, two-time Newbery Medal–winning author of The Giver


In her first novel for middle-grade readers , bestselling author Alice Hoffman tells a bewitching story of love and friendship that is truly magical.

Twig lives in Sidwell, where people whisper that fairy tales are real. After all, her town is rumored to hide a monster. And two hundred years ago, a witch placed a curse on Twig's family that was meant to last forever. But this summer, everything will change when the red moon rises. It's time to break the spell.

What Other Authors Are Saying
"I loved Nightbird. Such a clever mix of fantasy and reality; the fantasy is so persuasively meshed with the story that the reader accepts everything. Alice Hoffman enters brilliantly into the twelve-year-old mind and winds her account of a disordered family into the twists and turns of an elegantly crafted narrative in which past and present unite to solve a magically intriguing problem of witches, feathers and owls." —Penelope Lively, winner of the Carnegie Medal and the Booker Prize






Review:

★★★★★

Wow. I don't know what I was expecting entirely, but I know that this book blew me away.

What I perhaps liked best of all was the tone with which this story was told. It's slow and dreamy like the summer days that Twig spends in the orchards. It's slow without being boring, the space is filled with absolutely beautiful prose. Hoffman describes everything in the scene from the clothes the characters wear, to the delicious pink apple pie that they eat, to the look of the sky at the present moment with precision and fluidity. It's easy to be swept up into the scenes, as I found myself to be.

Then there are the characters, who I also loved. Twig is a loner by force, because her mother insists that it is what is best for the family. Because of this, Twig is a bit shadowy and mysterious, but not nearly as much as her secret brother James that no one in town knows about. Because of a curse inflicted hundreds of years earlier, he is "cursed" with beautiful blue-black feathered wings. James was perhaps my favorite character. He's torn between wanting to be normal and fit in, and the love and need for freedom and the open sky. Things get more complicated when the long-abandoned house next door gets occupants- descendants of the witch who cursed them. James becomes smitten with the neighbor girl, Agate and their romance was beautiful to read about. It's sweet and forbidden and complex, but I couldn't help but to cheer them on. There's also a brilliant cast of side characters, including a friendly journalist, a sweet historian, and a kid almost forgotten from Twig's past.

This book is written with a very realistic sense of fantasy. That is, I could (at least while I was reading the book) completely believe that somewhere out in Massachusetts there exists this small, cozy town wherein lies a mysterious winged figure that no one can quite glimpse or understand. The places described, like the orchards behind Twigs house, the town's prized forest, and even the diner that helps to sell Twig's family's pies and treats, they all felt incredibly real.

This is a middle grade level book, but I definitely believe adults and teens can enjoy it too. After all, I'm in my 20s and I loved it. I recommend it to fans of books such as Matilda, or anyone who wants a little more magic in their reading list. This was my first reading experience by Hoffman (despite the fact that I know I own at least two other titles), but it definitely will not be my last.

Thank you to Wendy Lamb Books who provided me with a copy in exchange for my honest review.