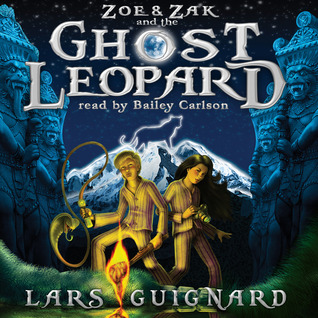 Title: Zoe & Zak and the Ghost Leopard
Author: Lars Guignard
Format: Audible Audiobook
Narrator: Bailey Carlson
Pub. Date: February 26th 2013
Source: Mother Daughter Book Reviews & Fantastic Press



Book Description via Goodreads:




If you love fantasy books for middle schoolers like the Percy Jackson series or young adult adventure books like Harry Potter, you'll love this!

Introducing book 1 of the new kids' adventure books from best-selling author Lars Guignard:

Zoe and Zak are lost in exotic India, where gods and magic still exist. Before they can find their way home, they just have to do one little thing…

…Save a mythical creature from an ancient evil that wants to rule the world.

When Zoe Guire goes along on her mom's business trip to India, things get very weird, very quickly. An elephant god speaks to her from the bottom of a swimming pool… She and her classmate Zak get locked in a trunk and shipped off to a strange city near the foothills of the Himalayas… and a crazy snake charmer tells them they've been chosen to protect a mythical creature called the Ghost Leopard from an ancient evil that wants to take over the world.

As they travel deeper into the majestic mountains known as the Realm of the Gods, things get even weirder. If she and Zak want to make it back to their parents, they're going to have to tap into powers they never knew existed.

Because if they don't, things will never be the same for any of us ever again.






Review:

★★★

I'm still getting used to listening to audiobooks, and I have to say this one was really pleasant to listen to. I really enjoyed the narrator, Bailey Carlson's, reading of this book and I think kids will love it too. She does different accents and inflections for the different characters, and it really helps the story come to life. It's never confusing to know who is speaking because each voice is distinct. I was really happily surprised by this!

And now for the book itself. I don't think that the "fans of Harry Potter" bit is true- I think this book is a bit younger than that. For example, one of the characters is referred to as "rhino butt" throughout the book. It was cute the first time, but as an adult it got old quickly. Similarly, there's a lot of language repetition like "Did I mention?" and "...or something". It makes it sound more like conversation and less like a book which isn't bad, but it did get a bit redundant.

I also really didn't care for the main character/narrator Zoe. I felt that she came off older than 6th grade, and a bit pretentious. At one point she references how she reads a lot about animals and there's no creatures that have never been photographed.... Which is weird because new creatures are discovered all the time. I grew to like her a bit more as time moved by, but at the beginning it was rough going. I did however like that she is adopted and is okay with it, it added a nice touch of diversity.

All that being said, the story itself is pretty cool. There is a lot of information in this book, and I think that's great in a book aimed for kids. No doubt readers will walk away having learned something. This book is set largely in India, and sometimes Zoe uses a different language like Hindi, and then the meaning is explained. I really appreciated this aspect. There's also a lot of mythology from the Indian philosophies, like the names of different gods and goddesses and what they represent or did. I wish I had a book growing up that focused on Indian tradition- I didn't learn about it until I got to college! Everything was well explained.

The writing was well detailed and easily to visualize. It didn't take much to imagine yourself on the streets of India or in the mountains or in the big fancy hotel right alongside Zoe and Zak. There's magic and powers and evil powers and a ghost leopard- what's not to like? It's written in a diary-esque type format which makes it seem like the story is being told directly to you, which was cool. There were also quite a few moments with humor in them that made me snicker aloud.

All in all, I thought that this was an enjoyable book. I think that kids in the late elementary/early middle school age will like this book the best. This book is like a mix of the Animorphs series, "The Wild Thornberries", and a pinch of "Percy Jackson" for good mythical measure. If you or your child is a fan of those things- I'd recommend it!

Thanks to MD Book Reviews & Fantastic Press for my copy in exchange for my honest review.