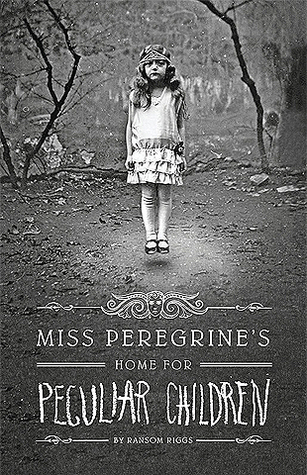 Title: Miss Peregrine's Home for Peculiar Children
Series: Miss Peregrine's Home for Peculiar Children #1
Author: Ransom Riggs
Format: Hardcover, 352 pages
Pub. Date: June 7th 2011
Source: Half Price Books



Book Description:




A family to heal him?

A mysterious island. An abandoned orphanage. A strange collection of curious photographs.

A horrific family tragedy sets sixteen-year-old Jacob journeying to a remote island off the coast of Wales, where he discovers the crumbling ruins of Miss Peregrine's Home for Peculiar Children. As Jacob explores its abandoned bedrooms and hallways, it becomes clear that the children were more than just peculiar. They may have been dangerous. They may have been quarantined on a deserted island for good reason. And somehow—impossible though it seems—they may still be alive.

A spine-tingling fantasy illustrated with haunting vintage photography, Miss Peregrine's Home for Peculiar Children will delight adults, teens, and anyone who relishes an adventure in the shadows.






Review:

★★★

Well.... This book is certainly peculiar.

I'm always a bit hesitant to read books that are crazy popular. This is an example. But with the recent movie release.... I just couldn't resist. At the end of the pages, this book left me feeling a mixture of disappointed, irritated, and mildly amused.

First, I'll go over what I liked about it. I can honestly say I haven't read a book like it before. I really enjoyed the photographs and letters that were included throughout the novel. It added a vintage feel of authenticity to the story. The descriptions of location were really well done- I felt like I could explore the house or the island alongside Jacob. It was enough to keep me reading and exploring.

But I didn't really enjoy the flow of the book. It felt slow until the last two chapters or so, as though this were more of a prequel or a primer for reading the next story. It made the story drag, and it made it take longer for me to get through reading it.

The book also felt a bit disjointing to me. I didn't really feel connected to any of the characters, other than Jacob and Emma. That's disappointing, because there's a whole house full of interesting, "peculiar" children that I would have loved to learn more about. But other than a name and a brief description of what makes them peculiar, I was left hanging. There's a half-attempt at a love story awkwardly placed in all the chaos. I don't mind romance in the slightest, but it came across as forced.

And then there's the ending.... Which is where I felt the most torn. On the one hand, it's where the book picked up speed for me. And that's good! But it also unfolded a bit like an episode of Scooby-Doo. A trusted figure takes off their face, ends up being the bad guy, and then a ragtag team of spooky teenagers/children jet off to save the world.

Overall, I'm not mad that I read this book. It held my attention well enough, and I really liked some aspects of it. I enjoyed the idea of the time Loops, the photographs, and the integration of history/the war throughout. Unfortunately, it fell short in some ways too. I don't think that I'll reread this one any time soon, but I might pick up the next book in the series if I come across it.

I feel like young adults and fans of Beautiful Creatures might enjoy this.