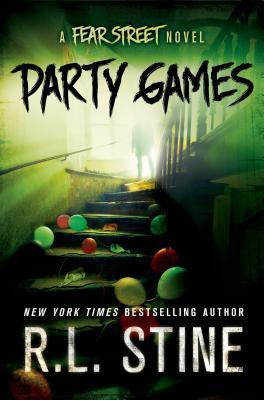 Title: Party Games
Series: Fear Street
Author: RL Stine
Format: egalley
Pub. Date: September 30th 2014
Source: Netgalley & St. Martin's Griffin



Summary from Goodreads:
Her friends warn her not to go to Brendan Fear's birthday party at his family's estate on mysterious Fear Island. But Rachel Martin has a crush on Brendan and is excited to be invited. Brendan has a lot of party games planned. But one game no one planned intrudes on his party—the game of murder. As the guests start dying one by one, Rachel realizes to her horror that she and the other teenagers are trapped on the tiny island with someone who may want to kill them all. How to escape this deadly game? Rachel doesn't know whom she can trust. She should have realized that nothing is as it seems… on Fear Island.

R.L. Stine makes his triumphant return to Shadyside, a town of nightmares, shadows, and genuine terror, and to the bestselling series that began his career writing horror for the juvenile market, in the new Fear Street book Party Games.

★★★★ ★

Four and a half stars.

---

Oh, RL Stine, how I missed you. Stine is one of the writers that turned me into the avid reader that I am today. I started reading the Fear Street series while my friends were reading Goosebumps, and I couldn't get enough of them. I had (and still have) full shelves dedicated to this series, and the author too. It turns out that I am just as in love with the Fear family legends as I was back then. This book was a great burst of nostalgia, but also a gripping story that let me read it in one go.

Party Games is exactly the kind of work I've come to expect from RL Stine. The descriptions are vivid and haunting from cover to cover, and he does a great job as always of building the world that is Fear Street and in this book, Fear Island as well. It's vivid enough where I was able to watch it mentally play out like a horror movie, and that makes me both happy and more creeped out at the same time. There's also plenty of creepy crawly gore. From dead, flattened squirrels nestled into the blankets of an unsuspecting bed, to a dead body twisted in an unnatural tornado where limbs should not be bending, this book is bound to make you shudder at least once.

Honestly, I was expecting to know what was going on from early on in the book. Silly Stine, over a decade later and you still had me fooled. I definitely didn't see the plot unfolding exactly as it did. I correctly guessed it partially, and then all hell broke loose and I was turned completely around, trying to figure out what was happening and who was murdering and kidnapping the guests on the island.

This book had me on the edge of my seat, and it made the foggy, dreary weather outside my train window seem all the more unsettling. This book is a must-have for any fan of RL Stine, the Fear Street series, or young adult horror in general. This is an amazing return to the horrific curse that is Shadyside, and it feels like RL Stine and I never left the neighborhood at all.

Thank you so much to Netgalley and St. Martin's Griffin for my copy in exchange for my honest review.