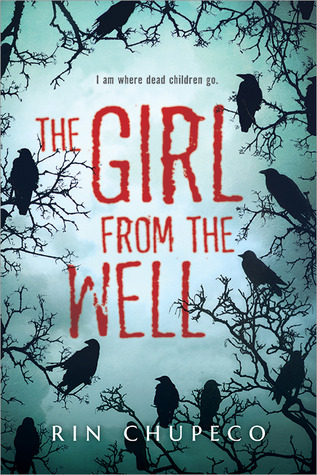 Title: The Girl from the Well
Author: Rin Chupeco
Format: egalley
Pub. Date: August 5th 2014
Source: Netgalley & Sourcebooks Fire




Summary:

The Ring meets The Exorcist in this haunting and lyrical reimagining of the Japanese fable.

Okiku has wandered the world for hundreds of years, setting free the spirits of murdered children. Wherever there's a monster hurting a child, her spirit is there to deliver punishment. Such is her existence, until the day she discovers a troubled American teenager named Tark and the dangerous demon that writhes beneath his skin, trapped by a series of intricate tattoos. Tark needs to be freed, but there is one problem—if the demon dies, so does its host.

With the vigilante spirit Okiku as his guide, Tark is drawn deep into a dark world of sinister doll rituals and Shinto exorcisms that will take him far from American suburbia to the remote valleys and shrines of Japan. Can Okiku protect him from the demon within or will her presence bring more harm? The answer lies in the depths of a long-forgotten well.

★★★★ ★

Four and a half stars.

---

I don't read nearly enough scary stories, and to be perfectly honest, I have no idea why. I enjoy them, but maybe I wore myself out a bit with them in my younger days. Regardless, when I saw that The Girl from the Well was influenced by Japanese folklore, I knew I needed to read it. I'm very glad I took a chance on this one, it's one that will stay on my mind for awhile to come.

The narration is beautiful. It's very poetic and soothing, and yet has a haunting, ominous tone starting from the very first page and continuing onward throughout the book. It's a very strange but equally pleasant sense of calm that you know won't last for very long, and yet you let yourself get lost in the dream-like prose. And then of course, you are yanked to attention by something creepy and crawly and freaky.

While I won't say this book scared me, I would definitely say that it creeped me out. There's a lot of vivid imagery that conjures up images of rot and decay and death. It, of course, goes hand in hand with the plot of the story, and let's just say that having read this book, I definitely would not want to run into Okiku in a dark alleyway.

Another thing that truly sets this apart is the Japanese themes and settings. I don't read a lot of young adult books featuring Asian characters or settings, so this was an aspect that I found especially engaging and enthralling. (I admit that a large part of this fascination is because I'm taking both a Japanese language course and an Asian religions course this semester of college, but I digress.)

The characters were unique and interesting and altogether captivating. It was addictive reading about Okiku and Tark and how their lives tangle together. I am not just blowing smoke when I say that I personally have never read a book quite like this one before, and I mean that in the absolute best way possible. This is my first reading experience with Rin Chupeco, but after completing this book I can say with certainty that it won't be the last (provided that she gives me more books to devour, of course).

I also really liked the cover of The Girl from the Well. It's eerie and simple and creepy all at once, and it would look absolutely lovely on my Gothic/horror shelf.

I'd recommend this to fans of horror/paranormal YA, those with an interest in Japan, or younger fans of movies such as "The Grudge" or "The Ring." Thank you to Netgalley and Sourcebooks Fire for providing me with a copy in exchange for my honest review.

About the Author:
Despite uncanny resemblances to Japanese revenants, Rin Chupeco has always maintained her sense of humor. Raised in Manila, Philippines, she keeps four pets: a dog, two birds, and a husband. She's been a technical writer and travel blogger, but now makes things up for a living. The Girl from the Well is her debut novel. Connect with Rin at www.rinchupeco.com.

Giveaway:

Now, here's your chance to win a copy of The Girl from the Well!

The Rules:
-This giveaway will run from September 22nd to September 30th, 2014.
-This giveaway is open to those 13+ and is USA & CANADA ONLY.
-It is open to anyone over that age who can legally enter, receive, and use their prize.
-One (1) winner will win a copy.
-This giveaway is sponsored wholly by the publisher.
-This giveaway is in no way associated with Facebook, Twitter, Rafflecopter or any other entity.
-Winner will have 48 hours to reply, or a new winner will be chosen. Winner will be chosen using Rafflecopter.
-Invalid entries will be removed, so please don't cheat.
-Void where prohibited. Odds will vary. No purchase necessary.

a Rafflecopter giveaway