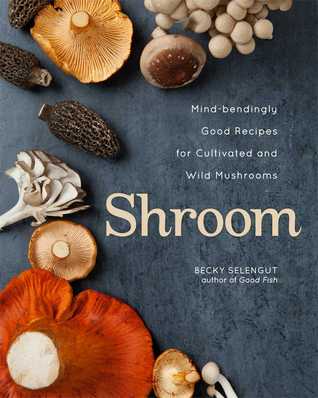 Title: Shroom: Mind-bendingly Good Recipes for Cultivated and Wild Mushrooms
Author: Becky Selengut
Format: egalley
Pub. Date: September 9th 2014
Source: Netgalley & Andrews McMeel Publishing




★★★★

Four stars

---

When I saw this book, I knew I had to read it. I have an obsession with mushrooms. They are possibly my favorite ingredient, and in my humble opinion they can make any dish, simple or complicated, all the more delicious. That said, I am an omnivore and do enjoy my meat as well as vegetables and fungi. I was very pleasantly surprised that almost all of these recipes, most of which are without meat, sounded amazing to me. This is a very vegetarian book, as I mentioned a lot of the recipes don't call for meat at all. The ones that do have meat offer instructions for substitutions.

I really liked the amount of special notes and tips that the author provided in this book, such as what mushrooms are interchangeable if one variety isn't available, or how to swap proteins. Each chapter of this book highlights a different kind of mushroom, and at the beginning of the section there's tips and instructions on where to find them, how to freeze or preserve them, when they're grown, and more fun little facts. There's also in depth instructions on how to clean each mushroom variety and how to find them yourself in nature. Plus, she provides links to videos online that can help as well.

Becky writes her recipes in an easy-to-approach manner, with a good dash of humor and snark. It felt like I was getting recipe advice from a friend, and I really liked that tone. These recipes offer both simple dishes and complex ones, but each is written in the same chill tone of "hey, you can totally make this."

The pictures that are provided are stunning, but I do wish that there would have been more pictures of the completed dishes. I am very much a visual person when it comes to cooking, and I like looking at what I should have been creating to see if I am still in the same ballpark. I also feel like the warnings about finding your own mushrooms in the wild should probably be in the front of the book and not the end.

The recipes in this book span all types of cuisine including but not limited to Japanese, Vietnamese, Indian, and Italian. I would give almost all of the recipes in Shroom a try, but the ones I'm most eager to make are "Hedgehog Mushrooms and Cheddar Grits with Fried Eggs and Tobasco Honey", "Black Trumpet Mushroom Tarts with Camembert, Leeks, and Port-Soaked Cherries" and "Wok-Seared Lion's Mane with Bok Choy, Squid, and Roasted Red Chili Paste".

In short, this is a book I'd definitely buy and use, I just wish there were more pictures of the finished products. I'd recommend this cookbook to those looking to find more meatless dishes, or anyone who loves mushrooms as much as I do. Thank you to Netgalley & Andrews McMeel Publishing for providing me with a copy in exchange for my honest review.