Title: One is Enough
Author: Love Robert
Format: egalley
Pub. Date: July 8th 2014
Source: Netgalley & Diamond Book Distributors
Buy Now: Amazon

★

One Star.

One is Enough is a quick-read graphic novel about sixteen year old Matsumoto-kun. When he runs into, literally, his senpai Mizushima-kun, he wants to make it up to him. Lines quickly become blurred and the boy must decide how far he's willing to go.

This review is going to be short and sweet. I picked up this book because I'm slowly getting into manga, and I like the idea of senpai-related relationships. Unfortunately, this one didn't meet my expectations. The artwork, well, it wasn't very good for a published graphic novel. It was bland, with a plot to match. I was expecting this taboo, steamy relationship but what I was left with was a boring, flat story that wasn't really anything new or interesting. I really wanted to like it, but this just didn't satisfy me on any level.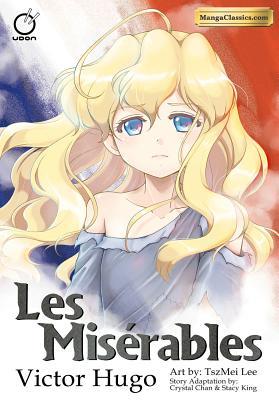 Title: Manga Classics: Les Miserables
Author: Stacy King, Tszmei Lee, Victor Hugo
Format: egalley
Pub. Date: August 12 2014
Source: Netgalley & Udon Entertainment
Buy Now: Amazon

★★★★

Four stars.

Les Miserables is a classic novel that has been adapted so many times into films, books, plays, and so much more. It's one of my favorite musicals and a stellar book. When I saw that it had been given the manga treatment, I absolutely could not resist picking it up, and I'm very glad I did.

I was very pleasantly surprised at how well Victor Hugo's 1000+ page masterpiece was condensed into a 300-something page graphic novel. I thought that, upon first picking up, that surely they'd have to take huge chunks of story out. Of course stuff is going to be missing, but I'm astounded that the full story, give or take, remained in this adaptation.

The artwork is well done (very similar to that found on the cover), and the writing is too. It was a fairly easy read, and if you've read the novel before, this makes a nice little complement/refresher. If you are a fan of this story and of graphic novels, this is a book you should pick up for sure. Or, if you're intimidated by the length of Hugo's book (I don't blame you), this is a good first stepping stone to familiarize yourself with the general plot and characters.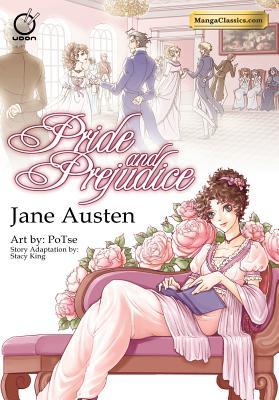 Title: Manga Classics: Pride & Prejudice
Author: Stacy King, Po Tse, Jane Austen
Format: egalley
Pub. Date: August 12 2014
Source: Netgalley & Udon Entertainment

Buy Now: Amazon

★★★★

Four and a half stars.

I'm going to start this review off with a confession that might make me seem like a bad bibliophile: I'm not a big fan of Jane Austen. I know that they are classics. I know that they are bestsellers. I know that they have adoring fans. I just have never really loved any of them (although, to be fair, I've only ever read them as an assignment in school). However, when I saw the pretty cover of this manga edition, I decided to give it a shot. I'm very glad I did!

This adaptation gets all the major plot points across while keeping the bulk of the text rather simple and light. It made it easier to read and understand, without having to study intricacies. Plus, I absolutely loved the art. It wasn't super detailed, and yet it still managed to convey the sense of elegance and femininity that most readers associate with Austen's work. It was cute.

If you're an Austen fan, this version of a revered story is worth checking out. If you aren't her biggest fan, like me, I still recommend it: I think I may try to read the original text again to see if my views on it have improved at all.

Thank you to Netgalley & Diamond Book Distributors & Udon Entertainment who provided me with digital copies of these books in exchange for my honest reviews.