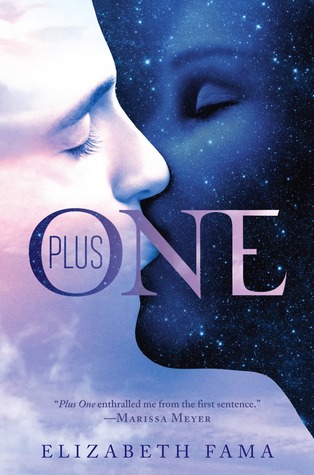 Title: Plus One
Author: Elizabeth Fama
Format: egalley
Pub. Date: April 8th 2014
Source: Netgalley & Farrar, Straus and Giroux (BYR)

★★★★★

Five stars.

---

Plus One is a young adult novel that takes place in an alternate version of the United States, where the population is divided. Half of the population, Rays, come out during the day time as we do now while at night, Smudges come out, having slept during the day. It is expected and required of you to stick to your given time, as guards are constantly checking up on America's citizens, and can learn everything about you by glancing at your cell phone. The main character Sol, a Smudge, finds herself on the run with a Ray, and finds herself falling in love despite its taboo. She must save herself and others, and figure out how far she's willing to fight for what she believes in.

This book is the one that got me out of my reading slump. Lately I've been reading a lot of books with cookie cutter plots and characters that I don't connect with, but this one blew all those ideas away from my thinking. I'm definitely impressed. I'd like to get my gush about the aesthetics out of the way first; look at this cover. It's stunning. It is what first got my attention, and I'd love a print of it for my wall if I'm being honest.

But now, for the actual story. What I loved most about Plus One was the society and alternate history that Fama wove in her book. It was detailed and well thought out, and it made me feel like I was living the story alongside Sol and D'Arcy. The setting was startling but relatable too. On one hand, you have a creepy, dystopian like setting where guards can know everything about you, from your job to the pills you've recently taken from one swipe on your phone. This world is still relatively foreign to me, and is disturbing on its own. But Fama blends that by making it set in America, in the Midwest, where I live every day. It gave the sci-fi aspects a startling realism. I do have to admit, I love when books are set places I've been, so that was another perk of this book for me.

And then there's the characters. I love both Sol and D'Arcy, the main characters throughout the course of the plot. Sol, bluntly, is a bad ass. She's a heroine that knows what she wants and how to get it, and isn't afraid to get into trouble (and a little bit dirty) in order to do so. Contrarily, D'Arcy took me by surprise a few times, and I loved his intelligence and his craftiness. I really liked reading about them together, watching their own plot play out in the middle of all the drama taking place.

Drama that, in my opinion, was well paced, gripping, and left me rapidly turning pages. I didn't want to put this book down. It sucked me in from the beginning and held my attention until I was out of pages to turn.

If you're a fan of books like The City of Ember, Cinder, and Downsiders, or dystopian young adult as a whole, this is a book I'd definitely recommend. Thank you so much to Netgalley and Farrar, Straus and Giroux (BYR) for my copy in exchange for my honest review.