Hello readers. I am really excited to announce the upcoming release of the new LGBTQ young adult book,
Frenemy of the People
by Nora Olsen. Most of you know that I support and adore this genre, and I'm happy to say that I really enjoyed this book (but more about that later). I'm even more excited that Nora Olsen has returned once more to Bitches n Prose to answer some of my questions. Give her a warm welcome, and let's begin!
Interview
Frenemy of The People features two females- one whose a "nice girl" and athlete, and the other who is an angry punk. What was your stereotype/group in high school?
I was part of a nerdy/arty crowd. I was stereotyped as "lesbian," which is funny because I didn't identify that way at the time. The people in my school made a classic mistake, confusing gender presentation with sexual orientation. (They figured if I looked like a boy, I must be gay.)
There's a good chance we would have been friends then. I was one of the nerdy/goth types, called a lesbian as well despite the fact that I'd identified openly as bisexual (at the time). Ain't high school grand? Speaking of, there's nothing quite like high school romance. Can you tell us about one of your crushes or relationships from back then?
My first boyfriend, when I was thirteen, was Carlos, nicknamed Tiger. He was nineteen, had a tattoo, smoked, and could not read. I met him at the bus stop and mostly kept him a secret from my parents. He took me to a kung fu movie in Times Square, but I liked the idea of having a boyfriend more than the actual boyfriend plus I didn't want to get physical, so the relationship fizzled out.
Did you play any sports or get involved in any clubs in high school?
No sports, but I was in school plays. I was on the school humor magazine and we managed to print one issue.
I wasn't much of a sports person either. It was just GSA and Best Buddies for me. Now, do you listen to music when you write? If so, what are some of the songs that make up the soundtrack to Frenemy of the People?

I do listen to music when I write. The character Lexie and I share some of the same favorite songs: "Pictures of You" by the Cure, "I Wanna Be Your Boyfriend" by the Ramones, "New Punk Fashions for the Spring Formal," by Dillinger Four, and "I Am A Poseur" by the X-Ray Spex. And Lexie really likes the Magnetic Fields, just like I do. But she also loves Le Tigre whereas I'm over them.
I remember I was listening to Supertramp's
Breakfast in America
album a lot while writing
Frenemy
. Go ahead and judge me! I have uncoolness pride. :)
I was really excited to see so many music references throughout the book- I personally love X-Ray Spex and get irrationally excited when other people remember they exist. They definitely make my mood better. In fact, Clarissa and Lexie each go through some rough stuff in this book. When you're having a rough day, what's one thing that can always make you feel better?
This is a good follow-up to the music question, because David Bowie's
Ziggy Stardust
album has been 100% reliable so far in making me feel better, as well as just about anything by the Smiths/Morrissey. It's no exaggeration to say I truly don't know where I would be without Morrissey and David Bowie's music.
The Hollywood bigwigs knock on your door right now to option Frenemy of the People as a movie. Who do you want cast?
What a delightful question! Although Lexie is not African-American in the book, I think Amber Riley who plays Mercedes on
Glee
would be a great actor for her. For Clarissa I would choose Jennifer Lawrence, or Harmony Santana from the movie
Gun Hill Road
. For Desi I would pick Lauren Potter, who plays cheerio Becky on
Glee
.
I can totally dig it. I adore Jennifer Lawrence! Now I know Frenemy isn't your first book. Did you know you always wanted to be a writer? If not, what did you want to do before?
I always wanted to be a writer. But when I was small I also wanted to be a scuba diver and an actor. And a mer-creature, or a cat that carried a cane and wore a diamond stickpin.
That... Is quite possibly the best answer to that question I've ever received. Your significant other leaves you a note that says "We're doing something special this weekend." What is your ideal romantic evening?
We go out to see a band, my girlfriend holds my hand, we dance and sing along to every song.
-day dreamy face- That does sound perfect. Do you have any other writing projects currently in the works?
Yes, I have another YA novel forthcoming from Bold Strokes Books in October. It's called
MAXINE WORE BLACK
and it is a retelling of Daphne du Maurier's
Rebecca
.
Aaaaand consider it added. If y'all wish to add it, you can do so here. And now for a final question- What is the one thing you most want to leave your readers thinking at the end of Frenemy of the People?
Wow, being gay/bi/pansexual is so awesome!
Pansexual reader here, I confirm being queer is pretty nifty. Now in addition to answering some questions for me, Nora was kind enough to play a little game of This or That with me.
This or That
Just pick the one you prefer!
Music or TV?
Music.
Black & white or color?
Black and white.
Chocolate or vanilla?
Chocolate.
Gryffindor or Slytherin?
Slytherin.
Books or ereader?
Books.
History or Science?
History.
Cats or dogs?
Cats.
Summer or winter?
Summer.
Thank you so much for stopping by and playing along with me, and answering my questions. Now, onto my review!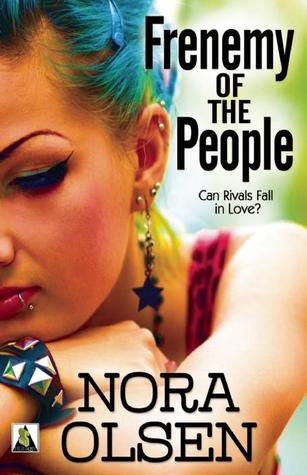 Title: Frenemy of the People
Author: Nora Olsen
Format: Paperback, 264 pages
Pub. Date: May 13th 2014
Source: Nora Olsen & Bold Strokes Books
Buy Link: Amazon

★★★★

Four stars.

---

Lexie is an angst-ridden, critical-minded, punk vegan. She's also the only openly lesbian girl in her high school. Clarissa is a popular girl on the equestrian team, bright and bubbly. Clarissa comes out as bisexual and reaches out to Lexie to start a Gay-Straight Alliance, but there's just one problem; Lexie hates Clarissa to the bone. But when Lexie agrees to help Clarissa's disabled sister run for homecoming queen and Clarissa's posh, comfy world starts to crash down around her, Lexie starts to question if she could be falling for the girl she'd sworn to hate.

I really, really liked this book. I think a large part of that is because Nora Olsen struck gold with me as a reader; I relate to this book on a lot of levels.

In addition to the stunning cover, I was swept in by the blurb on the back because I absolutely hated my girlfriend when we first met. I thought she was weird since she had an obsession with wolves and anime and horrible bands and lord, let us not talk about her appalling spelling and grammar. But eventually, she started sneaking into my thoughts more often. In all honesty, I'm still not really sure what happened but lo and behold here we are four(ish) years later. Lexie is the kind of girl I'd love to date: exceedingly intelligent, protective, passionate, a great taste in music, tattooed with dyed hair? Sign me up for one of those please. She also had a few really good one liners that made me chuckle.

On the topic of characters, this book alternates POVs with each chapter, switching between Clarissa and Lexie. I think Olsen did a great job differentiating the two; the characters each had a definitive speech pattern and vocabulary that made it fairly simple to understand who was speaking and when.

Now, at the beginning, I was a bit frustrated by Clarissa's coming out announcement, having found it to be a bit rash and sudden. But then, I got over it because I got to thinking "Well, wasn't yours?" And it's true. It may seem unrealistic to some, but I've been in Clarissa's shoes and sometimes labeling or recognizing sexuality is as simple as it appears in Frenemy.

Another thing thing that I found to be well done was the writing of Clarissa's sister, Desi. Desi has Downs Syndrome, and I feel that Olsen was nothing but respectful in her representation of a disabled character. She made this book a stronger one for me, for reasons I cannot entirely explain. She's strong and determined, and I like that.

The amount of drama in this book is really high but I mean, it's a high school novel about queer rivals. What did you expect? I thought it was well paced and believable, but this may be because I was friends with the anarchists in my high school. I also thought the progression of the girls' relationship was well done and I was rooting for them throughout (though for Lexie moreso. Did I mention I would date her yet?).

This book left me with a lot of feelings, but almost all of them are positive. Namely, I messaged my stupid girlfriend's face to tell her I love her. I'm mushy that way, apparently. I recommend this book to fans of LGBTQ YA. Thank you so much to Nora Olsen and Bold Strokes Books for a copy of this book in exchange for my honest review. All images were provided by the author.