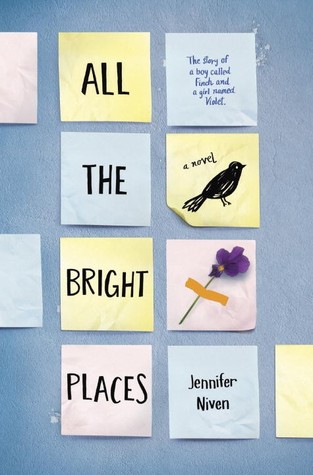 Title: All the Bright Places
Author: Jennifer Niven
Format: egalley
Pub. Date: January 6th 2015
Source: Netgalley & Knopf



Book Description via Goodreads:




The Fault in Our Stars meets Eleanor and Park in this exhilarating and heart-wrenching love story about a girl who learns to live from a boy who intends to die.

Soon to be a major motion picture starring Elle Fanning!

Theodore Finch is fascinated by death, and he constantly thinks of ways he might kill himself. But each time, something good, no matter how small, stops him.

Violet Markey lives for the future, counting the days until graduation, when she can escape her Indiana town and her aching grief in the wake of her sister's recent death.

When Finch and Violet meet on the ledge of the bell tower at school, it's unclear who saves whom. And when they pair up on a project to discover the "natural wonders" of their state, both Finch and Violet make more important discoveries: It's only with Violet that Finch can be himself—a weird, funny, live-out-loud guy who's not such a freak after all. And it's only with Finch that Violet can forget to count away the days and start living them. But as Violet's world grows, Finch's begins to shrink.

This is an intense, gripping novel perfect for fans of Jay Asher, Rainbow Rowell, John Green, Gayle Forman, and Jenny Downham from a talented new voice in YA, Jennifer Niven.

Includes a PDF Help Line Resource Guide and a Note Read by the Author.






Review:

★★★★★

Sooooo nobody warned me about the feelings that I'd have when I read this book. I was flipping through the files on my Kindle, saw this one, and remembered really wanting to read it. A few hours later I was an inconsolable heap because I grow far too attached to fictional characters. This book is really well done, and I read it in one sitting.

I really liked the characters. This book is told from alternating perspectives of both Violet and Finch, two characters brought together under strange and oddly sweet circumstances. I found Finch to be more relatable, oddly enough, than Violet despite the fact that he's the type of person who is all over the place. Maybe it's because he reminded me of a previous boyfriend who is still a friend of mine? Regardless, I loved him. Violet was a strongly written character whom I also appreciated, just to a less intense degree.

They're placed together to do a project in geography class that encourages them to "wander" outside of their small town and explore the new, strange, and interesting sights that the state of Indiana has to offer. I really liked this idea and how it brought these two previous strangers together, ever the closer as they continued their travels. The setting is another big reason why this book just clicked for me. I'm from Illinois, this book is set in Indiana, and I have heard of and been to a few of the places. At first I wasn't sure if the sites were real, until the shoe trees and the world's biggest ball of paint were referenced- I know about those places, though I have never been. But what took me by surprise is that the Carmelite Shrines in Munster, IN were mentioned. I can literally walk there from my house. I have visited its shrines, but not the particular grotto mentioned in All the Bright Places, entitled "The Ultraviolet Apocalypse". I promise you and myself that once I'm home from school for the summer, I will be paying it a visit. Their wanderings worked, and made me want to explore more places and wonder what Illinois has to offer too.

I don't want to talk too much about the plot though others have, because I'd like to refrain from spoilers. I will say that this book broke my heart, and that I probably should have seen the major event coming, but I was so engrossed in the book that I did not. I had to reread passages because like Violet, I was in disbelief and denial. The narration, especially from Finch's perspective, takes some getting used to, but soon enough I stopped noticing any differences. Both Violet and Finch are distinctive voices, so it's easy to make the transition from their POVs as the book progresses.

I also love the cover. I was't a fan until I read the book, and I have to say that the cover is a great representation of all that Niven's story has to offer.

This book is beautifully written in great detail. It's a bit quirky but it gels together well. I think it's an accurate comparison to say that fans of The Fault in Our Stars will probably like it, but I think that it stands well enough on its own two feet. This book deals with heavy themes like suicide, death, and mental illness, so be warned and do not pick this up if you're in the mood for a light read. Fans of contemporary romance, road trip plots, and midwestern settings ought to give this book a try.

Thank you to Netgalley and Knopf for my copy in exchange for my honest review.