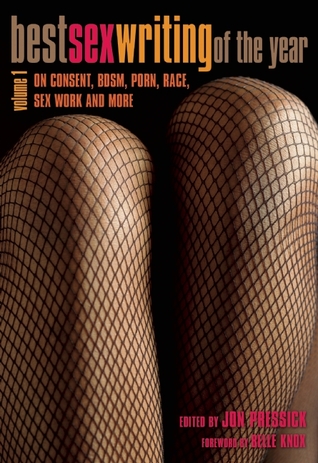 Title: Best Sex Writing of the Year: The Year's Most Challenging and Provocative Essays on the Subject of Sex
Author: Jon Pressick
Format: Paperback, 256 pages
Pub. Date: March 17 2015
Source: Cleis Press



Book Description via Goodreads:




This first volume of Best Sex Writing of the Year features a number of significant bloggers and some of the most important stories of the past two years. Alexandria Goddard is the blogger who made the important connections in the historic Steubenville Rape Case; Epiphora is the most renowned and saucy sex toy reviewer who has legions of dedicated followers; Lux Alptraum has recently sold the wildly successful Fleshbot and taken an editorial position at Nerve. These contributors (and many others) know the words that sell online, and their presence in this collection will carry tremendous weight with readers.

At the same time, this anthology features topics that have not received as much attention in previous editions. Jiz Lee raises exasperated hands to the ongoing ban of fisting in porn. Internationally acclaimed musician Ember Swift recounts her sexual appetites while she was pregnant. David Henry Sterry remembers his experience as a sex worker providing service to an 82-year-old woman. People — including those beyond the sex community — are learning to consider sex from many different angles, and this collection covers a great number of them.






Review:

★★★★

I have to say, I think this is a great concept for a book. Most of the books that I get published by Cleis Press are fictional short stories, but this book isn't that kind of writing. This is a collection of scholarly articles, each written under the blanketed category of "sex". I'm currently in college and I'm getting a minor in Sexuality Studies. I can say with certainty that I will be citing at least some of these articles in my research in the future as I earn my degree.

I'm not going to lay out all thirty-ish essays that are featured in this book (buy it and read it!), but I will talk briefly about some of the essays that I found the most interesting. One of these is entitled "I Am the Blogger Who Allegedly 'Complicated' the Steubenville Gang Rape Case- and I Wouldn't Change a Thing" written by Alexandria Goddard. As the title suggests, this as an article that reflects on the awful rape case that happened a few years ago, written by a blogger who had captured screenshots and tweets and posted them to spread some light on the situation of just how bad the case was. I'm pretty sure that there's not an adult or teenage American who hasn't heard of this case. It's fascinating to see the shitstorm unfold from such a perspective as Alexandria's, who was both praised and looked down on for her posting of content that the teens had willingly posted (rather stupidly) themselves to social media. I digress. Another essay that I found really interesting is called "When I Was a Birthday Present for an Eighty-Two-Year-Old Grandmother" by David Henry Sterry. Again, the title kind of sums it up, it's about the author's job, where he was hired as an escort for a woman's birthday. It's an interesting view of things, and you get an emotional and almost satisfaction hearing his story.

This book is enlightening and brings a lot of unique voices to the table. It's definitely worth giving a read if you at all have sex- er go, all of you adults should read it. It's insightful and informative, and very smartly done. It's my understanding that this is the first edition of this, implying that there will be more. I definitely hope that's the case, because I think it fills a need that's lacking in modern publication.

I received this book in exchange for my honest opinions.