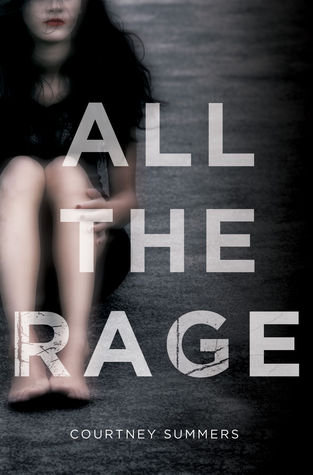 Title: All the Rage
Author: Courtney Summers
Format: egalley
Pub. Date: April 14th 2015
Source: St. Martin's Griffin



Book Description via Goodreads:




The sheriff's son, Kellan Turner, is not the golden boy everyone thinks he is, and Romy Grey knows that for a fact. Because no one wants to believe a girl from the wrong side of town, the truth about him has cost her everything—friends, family, and her community. Branded a liar and bullied relentlessly by a group of kids she used to hang out with, Romy's only refuge is the diner where she works outside of town. No one knows her name or her past there; she can finally be anonymous. But when a girl with ties to both Romy and Kellan goes missing after a party, and news of him assaulting another girl in a town close by gets out, Romy must decide whether she wants to fight or carry the burden of knowing more girls could get hurt if she doesn't speak up. Nobody believed her the first time—and they certainly won't now — but the cost of her silence might be more than she can bear. 

With a shocking conclusion and writing that will absolutely knock you out, All the Rage examines the shame and silence inflicted upon young women after an act of sexual violence, forcing us to ask ourselves: In a culture that refuses to protect its young girls, how can they survive?






Review:

★★★

I waited a long while to write this review. All the Rage is a very intense book to read, and I needed some time (a few weeks, actually) to decompress everything long enough to write a coherent opinion on it.

First, I'd like to say that this book's message is so damn important. I think it's crazy that every day when I get on Facebook, there's a new trending story of some teen rape/bullying/sexting case. It's horrifying. Books with themes as deep as the ones found in this book are often close to my heart, because I have experienced them first hand. These are books that need writing, because it is still happening across the country and the world. It's worth reading. End of.

The writing itself is beautiful. Though I can name other books Summers has written, and I've come across her name often on the internet, this is the first time I've ever read anything written by her. She has a great ability to describe human emotion in ways that I'm not sure that I could give a voice. It's beautiful and haunting at the same, almost hollow. It was an almost soothing sense of dread and darkness, which was an odd sensation but a lovely one as a reader (that might make no sense to some of you- sorry about that).

That said, the timing in this book left me puzzled. I wasn't always entirely sure where in the timeline I was, and that made it a bit hard to focus on what was happening. I had all of the puzzle pieces, but struggled at times to put them together into a bigger picture.

The characters left me divided. I felt for Romy, truly, and I wanted her to get all the things that she needed and wanted to calm her mind and restore her life. Because she was so turbulent of a character, my own feelings for her matched. Sometimes she left me confused, and sometimes I really couldn't connect to her. Other times I felt like she was sharing thoughts I've had personally, verbatim. The adults, don't get me started. They're accurate enough- the not listening, the lying, the small town politics. That is where I felt all the rage. I wanted to punch some of them (not unlike the adults in other books on similar topics I've read lately). The romance aspect didn't really add anything to me, but I'm sure there are others who will disagree with me.

In short, this book left me torn. And honestly, I think it was meant to. It's a book that's hard to swallow and slow to read, because some pretty bad themes and actions are within its pages. It is a book that demands more thought and reflection after it's been read. As I mentioned before, I think it's definitely a book that is worth reading, even though I didn't always follow or connect to it in the best way. Be warned, rape and bullying are main themes in this book, so tread with caution if you are sensitive to them. If you benefited from reading books such as Some Boys or The S-Word, you might want to give this one a go.

I received a copy in exchange for my honest review.