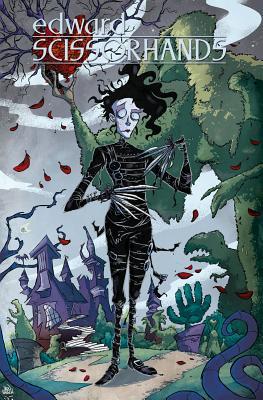 Title: Edward Scissorhands Volume 1: Parts Unknown
Series: Edward Scissorhands #1
Author: Kate Leth & Drew Rausch
Format: egalley
Pub. Date: May 19th 2015
Source: IDW Publishing



Book Description via Goodreads:




An all-new adventure revisiting Edward Scissorhands' two decades after the end of the fan-favorite movie! In a castle just outside a sleepy suburban town, a brilliant inventor created Edward Scissorhands... but left him tragically unfinished. Two generations of exile have left Edward digging through abandoned experiments, but once he wakes up a creature left buried, he discovers he isn't the only one missing a vital piece. As Edward tries to fix a grave mistake, he comes face-to-face with a teenage girl who was sure he was only myth... despite the stories her grandmother told her about the man she could never touch.






Review:

★★★

I cannot tell you how excited I was to find this graphic novel. I absolutely adore Edward Scissorhands. It was one of my favorite movies growing up and it still is as an adult. Opening this book was a nice little sense of nostalgia. I think this is a comic that all fans of the movie will enjoy.

What I absolutely loved about this comic is the artwork. It's absolutely gorgeous! It has the dark, dreary Tim Burton-esque feel that we all know and love, but is given an almost adorable face lift. It all looks a little more cartoonish and approachable. It came to life on the page and did a great job of bringing both familiar and new characters to life and conveying a story.

The story, for me, is where this book was lacking. It takes place in the future from the movie that we all know and talks about Kim's granddaughter. It's a very sweet story that I enjoyed reading, but it came off as predictable and a bit one-dimensional.

Overall, it's worth reading, especially if you're as big of a fan of the Edward Scissorhands movie as I am. The artwork is absolutely fantastic, and brings to life the more lacking story-line.

I was provided this book in exchange for my honest review.