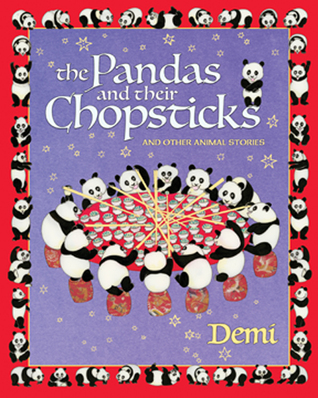 Title: The Pandas and Their Chopsticks: And Other Animals Stories
Author: Demi
Format: egalley
Pub. Date: August 1st 2014
Source: Netgalley & Wisdom Tales



Book Description via Goodreads:




What do polite pandas, cunning kitties, talkative turtles, and hasty hedgehogs have in common? They all feature in the delightful new book of whimsical animal stories by award-winning artist Demi! Adapted from traditional folktales, these lighthearted stories have a universal appeal and will provide valuable lessons for little hearts and minds to absorb. Discover how panda learns the importance of sharing, how turtle discovers the danger of being proud, and how everyone, including tiny hummingbird, has their part to play in life.






Review:

★★★

I'm a sucker for pandas, so when I came across this title I had to check it out. Unfortunately for me, the illustrations outshone the actual text and story telling by a pretty big amount.

This book contains multiple short stories, and I mean short. Each little fable is only about two or three sentences. While I like the morals or lessons that each animal story tells, it felt like no effort was put into the story telling at all. It wasn't very creative and they're very blunt and to the point. I expected more detail and storytelling, even in a children's book.

I did, however, love the illustrations. They were gorgeous and made the brief snippets of text come to life. They're really bright and fun and capture the imagination that the stories themselves are lacking in. For me, the illustrations are what saved this book.

I wouldn't really recommend it, but it's worth a flip through just for the illustrations alone. Thanks to Netgalley & Wisdom Tales for my copy in exchange for my honest review.