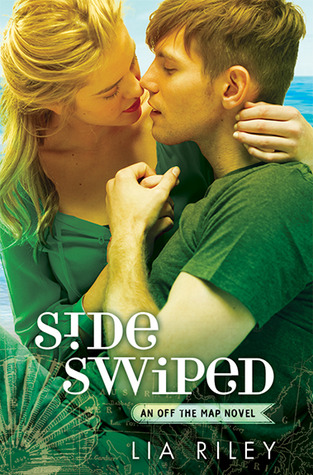 Hello my lovely followers and readers. Do you know what is special about today? It's my birthday!!! I am at the grand old age of twenty-three (-internal sobbing-) and admittedly, that age only makes me think of this:



But... Hopefully you guys still like me when I'm twenty three, right? Well in an attempt to butter you up, I'd like to present to you today a very special post. As some of you know, the Off the Map trilogy by Lia Riley was one of my absolute favorite sets of books in 2014. It is with absolute giddy fangirlish delight that I welcome Lia to Bitches n Prose to help me celebrate my birthday!


Interview


Thank you so much Lia for taking some time to talk with me today and help me celebrate. The setting of the Off the Map trilogy is written in such great detail. Have you spent a lot of time in Australia? Was there any research you needed to do?

My first trip to Australia was, ahem, *cough* fifteen years ago. I hadn't quite turned twenty-one and certainly never expected in five million years to meet "the one" while on my study abroad trip. However, my now husband, Matey, whittled his way into my heart with bad dance moves and bottles of ginger wine. We lived in Australia (Tasmania mostly) for five years and still go back every year. I've made the flight at least a dozen times now. . .it's long, but hey…in-flight movies and wine? Not so bad.

The settings in the book were all places I've visited, right down to the exhibits from the Museum of Old and New Art in Upside Down.

That's so cool. I didn't realize just how realistic all those places were, and now I just want to visit there even more. Continuing on with research, over the course of the books Talia struggles with her OCD. Is this a disorder you knew a lot about before writing?

I'm clinically diagnosed with obsessive-compulsive disorder and generalized anxiety. While my symptoms manifest differently than Talia on occasion, her experiences absolutely echo my own.

Did you get any input/say on the cover art? Because they are absolutely gorgeous.

My contract with my publisher, Hachette Book Group, guarantees me a say in the cover design. That being said, I had zero to do with the beauty of the Off the Map covers. My editor emailed them to me and I cried with happiness.

Bran is one of my favorite romance leads of all time and Talia is a very relatable character for me. Were any of your characters based off of people you know in real life?

Aw, thank you so much! I have no idea where Bran and Talia came from. A week or two into drafting, Talia's voice came loud and clear. Bran, surly boy that he is, took longer. I didn't intend to write his POV at all, then around a month into the book, he piped up his two-cents, before clamming back up. That's why there's so little of him in Upside Down. Homeboy was a tough nut to crack. Strangely, once I started Sideswiped, he wouldn't shut up. I'd literally have to be like STOP HOGGING THE BOOK, BRAN! Same for Inside Out.

I've had readers view me more as Talia, and that's a tremendous compliment (in my opinion), as I do love and respect that girl. But in real life, I might be a leeeeettle more cynical and idealistic, a la Bran.

A girl after my own heart, Talia loves her some TimTams. What is the best snack to have nearby when you're writing?

TimTams are such a delight, right? I usually mainline herbal tea, and occasionally popcorn. No one should watch me eat popcorn. Ever. Picture Cookie Monster gone wild.

That is quite possibly the best description I have ever heard. Now... "Lia!" The movie directors cry. "We need your help with casting!" Who would you like to see play these characters?

Oh, I have that dialed. Talia would be played by Emily Bett Rickards (Felicity Smoak in Arrow) and Bran by Colton Hayes (Roy Harper in Arrow).

I can totally see both of them fitting as your characters. What is one tip you wish you would have known at the start of your writing adventure?

Actually, nothing. Every mistake I've made has taught me a valuable lesson, ones I needed to make to be where I am today.

Do you listen to music when you write? If so, what are some of the songs that helped you to write the Off the Map books?

I mainlined Passenger's All the Little Lights while during that series. Even now if I hear a song from that album, it gives me a visceral Off the Map response.



I've actually never heard of them before, so I'll have to check it out. Do you have any new projects in the works?

Yes, Ma'am. Here's a list:

All three Off the Map books are being released in stores as a trade paperback starting May 23rd, then June and July! Woo hoo!

On The Side (Off the Map #3.1)--a stand alone companion novella featuring Sunny and Tanner. Out in April.

Last First Kiss (Brightwater #1)--my first book in a contemporary adult romance series, set in a small ranch town that's recently become lauded as "Best Kept Secret in the West". Features a hot cowboy sheriff named Sawyer who is skilled in oral pleasure, honey harvesting (not an innuendo) and hot springs booty calls. Out June 23rd.

Right Wrong Guy (Brightwater #2), second book in adult contemporary. Features a bad boy wrangler and a runaway bride. Out August 4th.

Blindside (Off the Map #3.2), a stand alone companion novella featuring two characters from Off the Map universe. Out in September.

Best Worst Mistake (Brightwater #3), this one has a gruff smoke jumper. 'Nuff said? Out in November.

With Every Breath, a New Adult standalone set in Patagonia and starring a broody Scottish mountaineer. Out in paperback/digital in December.

….whew!

-blinks- Holy Hell Lia do you plan on breathing ever. 1) I AM SO EXCITED FOR PARPERBACKS YOU DON'T EVEN KNOW. 2) I kind of hate you because (as my girlfriend will tell you with a sigh and a shake of her head) I have recently come to have an obsession with Scottish characters and cowboys. FIRST AUSSIES NOW THIS LIA GET OUT OF MY HEAD. Don't really, I can't quit you-r books.

What's something you hope that readers take away from your books?

Wow, fantastic question. I guess, my core story, is people conquering their fears. It seems to be a theme I return to again and again. Hopefully, that is something that can resonate with readers?

Bonus Question That is Really a Statement and Fangirlish Request: I can has more Marti please?

You can! Let me just write all that other stuff first <3 Thanks so much for this and happy birthday!

And thank YOU so much for talking with me today <3


Stalk the Books:

You can find my reviews here: Upside Down, Sideswiped, and Inside Out.

or

Add them on Goodreads here:




or

Buy them here:

Upside Down, Sideswiped, and Inside Out.



Giveaway:

Because Lia is the absolute cat's pajamas, she's generously offered an ebook copy of Upside Down for a giveaway! This is open to anyone age 16+ in CAN or US only.

a Rafflecopter giveaway


Update: A new winner was chosen after 7 days with no response.