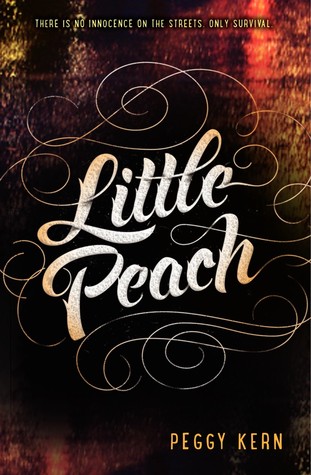 Title: Little Peggy

Author: Peggy Kern

Format: ARC

Pub. Date: March 10th 2015

Source: Traded




Book Description via Goodreads:




What do you do if you're in trouble?

When Michelle runs away from her drug-addicted mother, she has just enough money to make it to New York City, where she hopes to move in with a friend. But once she arrives at the bustling Port Authority, she is confronted with the terrifying truth: she is alone and out of options.

Then she meets Devon, a good-looking, well-dressed guy who emerges from the crowd armed with a kind smile, a place for her to stay, and eyes that seem to understand exactly how she feels.

But Devon is not what he seems to be, and soon Michelle finds herself engulfed in the world of child prostitution where he becomes her "Daddy" and she his "Little Peach." It is a world of impossible choices, where the line between love and abuse, captor and savior, is blurred beyond recognition.

This hauntingly vivid story illustrates the human spirit's indomitable search for home, and one girl's struggle to survive.







Review:

★★★

This is one of those rare instances where I'm really not sure how I feel about this book. I think it is definitely worth reading, but I can't say that I loved it, and I probably won't read it again. I'm left a bit disappointed, because this is one of my most anticipated reads of 2015. Overall, it was okay.

I will give this book one thing: it's incredibly gritty. The writing feels realistic. Even when the events happening to Michelle are unpleasant (which is a LOT), it feels realistic and not too dramatic. The characters and the settings are all well detailed, and it is easy, albeit unsettling, to place yourself in the main character's shoes. The characters were well written and were easily distinguishable from one another, but I felt they were missing a bit of depth. Honestly, I never really connected to Michelle. Considering this book has the difficult topic of child trafficking/prostitution, I felt I was missing some of that emotional attachment to her, and I felt I wasn't as impacted as I should have been.

A note about the writing that was neither positive nor negative really, but it was a bit hard to read this at times because the characters speak like they would in real life. That is, there is poor English and slang, like "I ain't gonna", etc. While I totally see why the author did this, and it definitely adds to that grit I mentioned before, from a reader standpoint, it wasn't all too pleasant. It doesn't effect my rating, but it was rough in parts.

I also didn't realize that this book is about gangs. It again doesn't really matter, in regards to a review. But when all of a sudden the Bloods were mentioned, I was taken aback. It totally adds a different layer to the story.

I feel like the book was a bit rushed, to be honest. I think that's part of the "missed connection" to Michelle. The story moved so fast that I didn't really have time to grow fond of any of the characters, or even to hate others like her "Daddy". I wish the book had been a little longer, and a little slower of a pace, or at least a more in depth pace.

This topic is an important one. Child trafficking is a huge problem that happens where most of us won't realize it. I appreciate the research that went into this book, and the light the author tried to shine on it. I think that this is a book that will have a lot of people raving and talking: which is good. We need to talk about it. But for me, it's a book worth reading once, but probably not more than that.

I got this ARC through a book trade, in exchange for an honest review.