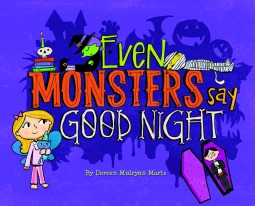 Title: Even Monsters Say Goodnight
Author: Doreen Mulryan Marts
Format: egalley
Pub. Date: August 1st 2015
Source: Capstone Young Readers



Book Description:




It's bedtime, and Avery hates bedtime. She is positive that there are monsters under her bed, especially on Halloween. Where else would all of those monsters sleep? After a thorough discussion with her mom about the monster situation, Avery finally goes to her room. Does she dare check under the bed? A mix of story text and speech bubbles blend seamlessly in this humorous bedtime tale that both parents and children will relate to.






Review:

★★★★★

As my regular readers know, I am a big fan of monsters, horror, and things that go bump in the night. When I stumbled across the picture book Even Monsters Say Goodnight, it just sounded too cute to pass up. I'm really glad I read this- this is a great bedtime book for younger readers and the parents who like classic monsters like Dracula. Also, especially little readers who are into things such as Monster High Dolls. I hope to read it to my own spooky gothlings.

There's a good message to tell here throughout the book, in the main character's quest to find the monsters under her bed on Halloween. It's a problem that a lot of kids deal with, so I think it's really relatable for most children. There's also a lot of ghoulies and ghosties in this stories that kids are familiar with, making that connection to the story that much greater.

What really stood out the most to me about this book is the illustrations. They're amazing! They have great use of color, and are amazingly detailed. I spent a good amount of time on each page, studying all of the little details that the illustrator drew into the pages. They match well with the text of the story.

I'd recommend this to younger bedtime kiddos from a rough age of 5-8. I think it's a good book especially for Halloween, but all year round too if you have an appreciation for things that go bump in the night.

I received a copy in exchange for my honest review.