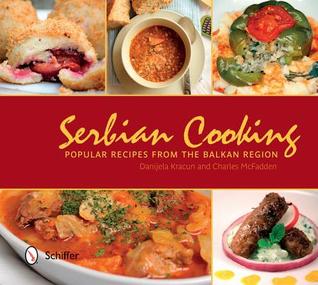 Title: Serbian Cooking: Popular Recipes from the Balkan Region
Author: Danijela Kracun & Charles McFadden
Format: egalley
Pub. Date: March 28th 2015
Source: Schiffer Publishing



Book Description via Goodreads:




Fifty-three recipes make up this Eastern European cookbook. Inside, find all types of traditional Serbian fare, including potato salad, lentil soup, and an assortment of pita dishes, as well as sauces and a multitude of delectable desserts, such as cr me puffs, baklava, and crepes. Most Serbian cooking traditions are intertwined with the cultures of its neighboring countries. So, don't be surprised if some of these dishes seem similar to some of your own family's traditional recipes. Also, be prepared for some differences. In Serbia, lunch is the biggest meal of the day, while dinner happens to be the lightest, typically focusing on merely cold cuts and bread. Throw in an afternoon snack of a baked pastry and coffee and consider yourself a convert!







★★★



Review:

I'm quite disappointed in this cookbook. I got it because I'm always looking for new recipes to try, plus I have a few Serbian relatives who always bring over really delicious dishes over the Christmas holidays. I was hoping to find some of those recipes in here, but unfortunately that was not the case.

A lot of the recipes are really simple, and I don't mean that in a good way. There are recipes in here for french toast (which gives no instructions as to what kind of bread), coffee (with no special steps), and a cold cut tray that actually says as the instructions just to add meats and the like, without offering any tips or recommendations as for what meats could be found in a traditional Serbian home. Some of the recipes that I was more interested in, such as peach pie and creme puffs, use pre-made brands/ingredients like pre-prepared pie crust. I was expecting more from-scratch recipes for things that I hadn't tried.

I didn't care for the way that the steps were presented. They somehow managed to be both simple and complicated. They were simple in that they were very blunt, like add all these things, serve. But that's not always a good thing. There's no step by step break down, it's written in paragraph form, with little advice on what the textures or techniques should be for each step of the process. This complication was added in the fact that the recipe titles that weren't in English, such as tulumbe had no explanation. I can tell you how to make it and what's in it, but just by looking at the title I have no idea what it is.

The pictures in this book weren't the best of quality (they didn't look professional), but they did give the book a family, home-cooking kind of vibe to the book that I can appreciate. What helps to round this book up (star wise) is the fact that there was a picture accompaniment for each and every recipe. Pictures are hugely important to me while picking a cookbook, and I really did appreciate having a reference for each recipe.

Another plus to this cookbook is that it appeals to both vegetarians and meat eaters. There are recipes that instruct on how to omit or add meat, depending on your personal preference. I'm a meat-eater myself, but I can appreciate the vegetarian options that were provided.

There are a few recipes from this collection that I would like to try, including Plum Dumplings, Chicken Paprikash, and Chestnut Cake.

All in all this is a very, very basic cookbook. The recipes are lacking a bit, but it makes up for it with its abundance of color pictures that pair with each and every recipe in this collection.

Thanks to Schiffer Publishing who provided me with a copy in exchange for my honest review.