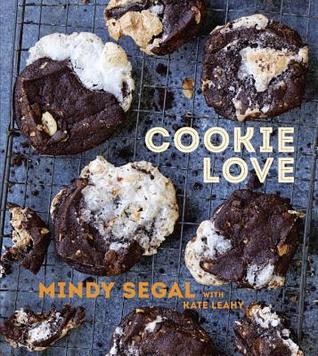 Title: Cookie Love: 60 Recipes and Techniques for Turning the Ordinary into the Extraordinary
Author: Mindy Segal
Format: egalley
Pub. Date: April 7th 2015
Source: Ten Speed Press

Description:


A new, edgier take on baking cookies, from a James Beard Award-winning chef and the owner of the popular Chicago restaurant, HotChocolate.

Mindy Segal is an up-and-coming chef and baker who's serious about cookies and bars. In her first cookbook, Segal turns classic recipes into more elevated, fun interpretations of everyone's favorite sweet treat. From Brown Butter with Hickory Smoked Bacon Chocolate Chip Cookies and Crème de Violet Snickerdoodles, to Citrus, Brown Butter, and Graham Cracker Shortbread with Framboise Preserves and Hibiscus Sugar Rugelach, Segal's recipes are inspired and far from expected. This modern twist on a traditional favorite is the perfect addition to every baker's bookshelf.



★★★★★



Review:

I have quite a sweet tooth, so I'm always looking for recipes that will cater to that. And then I saw that author Mindy Segal is the owner of the Chicago restaurant HotChocolate, and I was sold. I haven't gotten to go there yet, but it's on my list for when I'm back home in Chicago for school. From one Chicagoan to another I had to get this copy, and I'm so glad I did. This is an amazing tome of cookies that is sure to have something for everyone.

You can tell that this book comes from a place of passion, as each recipe and chapter is full of personal stories and reasons for why each cookie is included in the collection. The recipes are sorted by type of cookie, which is handy if you're looking for a particular recipe or occasion to bake for (as if one needs an occasion other than hey, I want cookies). There are nice tips and techniques for each recipe, so even beginners can start baking! There's also a section at the end of the book reserved for needed equipment, what you should have on hand, resources, tricks, and conversions, so there's plenty of help and citation to help you through the recipes.

The recipes themselves are a great collection of complex and simple. From the standard favorite chocolate chip cookie, to more complicated filled cookies, there's a nice balance in the flavor profiles and complexity level. There are also tons of pictures that are really well done, and almost every single recipe has a photo to correspond with it. This is a huge help to me, because the more pictures of the finished products that a cookbook has, the more likely I am to return to the book in the future.

This girl gets a special shout out, because she is the only chef that I have ever read who has included kolachkes in their cookbook, let alone a whole chapter of them. Being from a big Polish family from the south side of Chicago, kolachkes are one of my favorites and they're eaten on holidays and special occasions. Because they're a bit of a pain to make, in my house they're a special treat and one of my absolute favorites. I loved Segal's unique rethinking on a local classic, and I can't wait to make them all.

In addition to the recipes on how to make cookies, there are also recipes for how to make sauces, jams, and even jimmies. I put sprinkles on pretty much everything, so I'm really excited to make my own! These additional recipes ensure that your cookies are made from scratch with love from the very get-go.

There are no recipes in this book that I wouldn't love to settle down with a nice big plate of alongside a big ole glass of milk. That being said, the ones that I'm most excited to bake include Kumquat Marmalade Kolachkes with Blackberries and Black Pepper, Smoked Almond Shortbread with Orange Blossom and Raspberry Framboise, and Lemon Goat-Butter Tea Cakes.

I recommend this book to both beginners and masters, as there's recipes in here for everyone. The directions are clear and concise, the recipes are awesome, and the photography is mouthwatering.

I was provided a copy of this cookbook in exchange for my honest review.