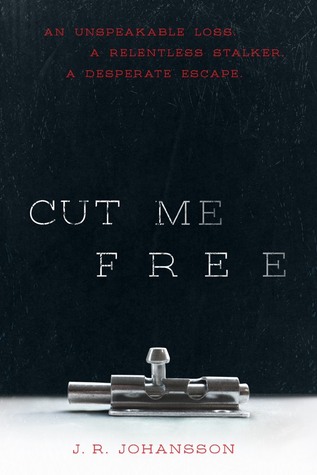 Title: Cut Me Free
Author: J.R. Johansson
Format: egalley
Pub. Date: January 27th 2015
Source: Netgalley & Macmillan Children's Publishing Group



Book Description via Goodreads:




Seventeen-year-old Charlotte barely escaped from her abusive parents. Her little brother, Sam, wasn't as lucky. Now she's trying to begin the new life she always dreamed of for them, but never thought she'd have to experience alone. She's hired a techie-genius with a knack for forgery to remove the last ties to her old life. But while she can erase her former identity, she can't rid herself of the memories. And her troubled history won't let her ignore the little girl she sees one day in the park. The girl with the bruises and burn marks.

That's when Charlotte begins to receive the messages. Threatening notes left in her apartment--without a trace of entry. And they're addressed to Piper, her old name. As the messages grow in frequency, she doesn't just need to uncover who is leaving them; she needs to stop whoever it is before anyone else she loves ends up dead.






Related Music:

While reading Cut Me Free, I kept thinking of and playing this song: Fight Like a Girl by Emilie Autumn




Review:

★★★★★

This book, y'all. It gave me so many feelings that I don't know where to start. I was really annoyed that real life things like "school" and "sleeping" had to get in my way of reading this book. I was hooked early on and remained fascinated until I was out of pages and unsure of what to do with my life from that point onward.

This book is written in such a manor that there is this really creepy undertone the entire time. Think of old horror movies where there's that weird blue lighting effect and randomly dripping water and that unsettling quiet music before the storm. Got it in mind? That's kind of how I felt while reading this book. There were so many ups and downs and my emotions were not ready for such twists. Most of them I saw coming, but one however I did not. This prompted me to shout profanely on Twitter, and thankfully the author sees it as a compliment (which is exactly how I meant it).

I grew surprisingly attached to these characters. I wasn't really all that "into" the relationship that forms between Charlotte and Cam, but at some point my dislike of the pair disappeared and I was hoping that they got the chance to try to make it work. Charlotte, quite understandably, is sometimes hard to read, harsh, blunt, and emotionally distant. Maybe it's because I'm not a stranger to abuse (though nowhere on this scale, thank you any god that will listen), but I found that really relatable. And then there's the children, Sam and Sanda, who add a whole different level of heartbreak and hope to the book. I wasn't sure what directions it was going to take in the beginning, but it was one helluva ride for everyone involved.

I feel weird saying I loved this book, because it very, very heavily focuses on extreme cases of abuse, murder, and child trafficking. So in lieu of that, I will say that Johansson successfully wrote about topics that are hard to address, hard to choke down, and hard to focus on (when there's so much good you can use to ignore the bad things) in a way that feels gritty, realistic, and honest. It feels educated, from the sociopathic behaviors from various characters to the defenses taken against them, it just felt so real. It was almost scary.

This book will appeal to those who enjoy dark young adult fiction, books dealing with abuse, murder, thrillers, mysteries and I'll throw in contemporaries for good measures. This isn't a book that I'm likely to forget in the near future, and served as a reminder that this shit doesn't just happen in books but every day here in the US and elsewhere. Be warned, as I mentioned before, that this book has a lot of gory physical and mental abuse and death, so do not go into this for a light fluffy read or if these are triggers for you Thank you to Netgalley and Macmillan Children's Publishing Group for my copy in exchange for my honest review.