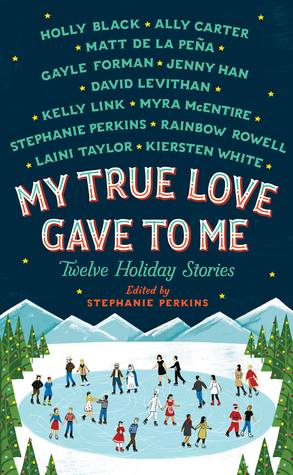 Title: My True Love Gave to Me: Twelve Holiday Stories
Authors: Stephanie Perkins, Holly Black, Ally Carter, Gayle Forman, Jenny Han, David Levithan, Kelly Link, Myra McEntire, Matt de la Pena, Rainbow Rowell, Laini Taylor, Kiersten White
Format: egalley
Pub. Date: October 14th 2014
Source: Netgalley & St. Martin's Press

Description via Goodreads:




If you love holiday stories, holiday movies, made-for-TV-holiday specials, holiday episodes of your favorite sitcoms and, especially, if you love holiday anthologies, you're going to fall in love with MY TRUE LOVE GAVE TO ME: TWELVE HOLIDAY STORIES by twelve bestselling young adult writers, edited by international bestselling author Stephanie Perkins.





★★★★

Technically speaking, I did the averaging of the stories' ratings and got a 3.7. So let's just call it a four, shall we?

I picked this book up for a few reasons. I am a sucker for anthologies and Christmas, for one, so the pairing of the two seemed like a no brainer. I also recognized almost all of the author names, although I hadn't read many of them before. I see authors like Stephanie Perkins, Rainbow Rowell, and Laini Taylor (to name a few) plastered all over the interwebs, and I thought this anthology would be a nice way to get a first taste of some of these bestsellers. Overall, I'll say I was pleased.

One thing I really liked about this collection of Christmassy stories is that there is a lot of diversity. Because you have twelve different voices offering their own twist on a holiday tale, there are so many character groups being addressed. There are black characters and Asian characters and gay characters and Hispanic characters and boys and girls and hell, even paranormal characters. I really, really give props to the editing on this one- there's a great amount of voices being penned here.

I'm not going to go down and review each and every story, namely because I hate making authors stick out in anthologies as the one I liked the least. However, I will highlight my top three favorite stories from My True Love Gave to Me, in no particular order.

The first story that stood out to me was What the Hell Have You Done, Sophie Roth? by Gayle Forman. In this story, a Jewish "big city" girl, Sophie Roth, comes to a university in the middle of nowhere on a scholarship. She thought she'd fit in but she doesn't, not the way she'd expect. She finds that she keeps saying or doing the wrong things here. That is, until she starts talking with one of the few black boys on campus, and she realizes that maybe she just needs one special person to get along with. This was such a cute story that blended together Hanukkah and Christmas, races, and big city vs. small town. It makes you feel good and honestly I wish I could have read more of it. It definitely put a smile on my face.

The second story that got my attention was Welcome to Christmas, CA by Kiersten White. The lead character hates her job and the holidays. Everything around her is Christmas themed, her family is getting more and more strange to her as the days pass, and she just wants to get out of Christmas as fast as she possibly can. The cafe where she works gets a new cook, Ben, who has a gift for making the perfect foods- not just the ones that taste the best, but that will make people feel better. Maria starts to see that maybe Christmas isn't quite as bad as she thought. This is another one I wish I could have read more of. This book has a really cool blend of realism and holiday magic. Ben almost seems like he should be a holiday elf or something, and that makes it all the more adorable to me.

The final of the three that I'll be highlighting is the last story in this anthology, The Girl Who Woke the Dreamer by Laini Taylor. Holy ever-green holly. I have never read Laini Taylor's work before now, but I will definitely be reading her books in the near future. A short story was not nearly enough for the amazingness (is that a word? It is now.) of this plot. It was written with this dreamy, magical tone to it and I love the traditions and world-building that managed to be squeezed into such a small space. It was stellar, and I loved it. This story made the whole anthology end on a positive note.

As with all anthologies, there were stories that I really loved (like the three aforementioned) and ones that I didn't care for at all. Such is the way collections tend to work. Overall, I liked more stories than I disliked, and to me this is a book worth buying for that little dash of Christmas spirit.

Thanks to Netgalley and St. Martin's Press for providing me a copy in exchange for an honest review.