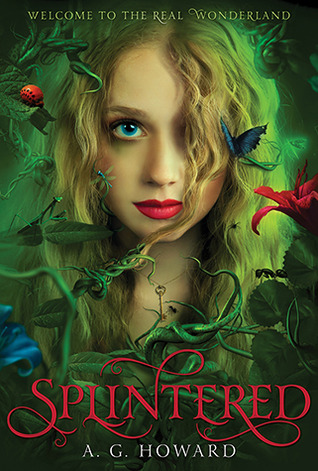 Title: Splintered
Series: Splintered #1
Author: AG Howard
Format: ARC
Pub. Date: January 1st 2013
Source: Won



Book Description:




This stunning debut captures the grotesque madness of a mystical under-land, as well as a girl's pangs of first love and independence.

Alyssa Gardner hears the whispers of bugs and flowers—precisely the affliction that landed her mother in a mental hospital years before. This family curse stretches back to her ancestor Alice Liddell, the real-life inspiration for Lewis Carroll's Alice's Adventures in Wonderland. Alyssa might be crazy, but she manages to keep it together. For now.

When her mother's mental health takes a turn for the worse, Alyssa learns that what she thought was fiction is based in terrifying reality. The real Wonderland is a place far darker and more twisted than Lewis Carroll ever let on. There, Alyssa must pass a series of tests, including draining an ocean of Alice's tears, waking the slumbering tea party, and subduing a vicious bandersnatch, to fix Alice's mistakes and save her family. She must also decide whom to trust: Jeb, her gorgeous best friend and secret crush, or the sexy but suspicious Morpheus, her guide through Wonderland, who may have dark motives of his own.






Review:

★★★★★

Oh man, where do I even start with this book? I suppose the beginning is as good of a place as any. What first drew me to this book was, admittedly, the cover art. It's so gorgeous. And then I found out it was a reimagining of Alice in Wonderland and I was sold. Alice's adventures are one of my favorite stories.

But then after I got this book, I just didn't read it. For no reason. There was so much hype and stuff for it, and I wanted to read it so badly, but it just seemed like there was never the time.

So I made time, and I am kicking myself for having waited so long. This book is absolutely fantastic.

What I liked best about this book was the world building. Howard took familiar elements from the tales we know and love, such as tea parties, Cheshire cats, and an evil queen, but she completely twisted them and made them her own. I was surprised by how dark and kind of creepy the world building was, but I positively adored it. Dark and creepy is just my style. Once I started reading I couldn't stop, because I was so eager to see what new lands and scenes Howard would unveil in this new, strange world. It was both familiar and unfamiliar, and I kind of liked the mix of the known and the mysterious.

I also really liked the care that was taken to build up character descriptions. By the end of the book, I felt like I knew all them personally. That's not an experience I get often in books, and I'm always blown away when it does. My favorite character was Morpheus, who was equal parts dreamy (no pun intended), mischievous, and mysterious. More of him, please.

The only thing that I really didn't like about the book was the very obvious love triangle. I knew there was one going in, and I do think that in the realm of love triangles, this one was pretty well done. It just gets a bit old for me after awhile, the "who will she pick!?" business. I mean, I'm still giving this a high rating, so it didn't matter to me too much, but it's still worth mentioning.

I am very eager to read book two, Unhinged, which thankfully I already own. I have no idea why I waited so long to read this, but I'm glad I eventually did! If you enjoy Alice in Wonderland, fairy tale retellings, or dreamy men with accents or piercings, then this is a book I'd definitely recommend to you.

I won this book in a giant box of books giveaway. Thanks, Tt!