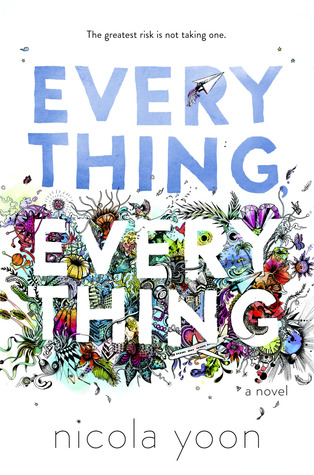 Title: Everything, Everything
Author: Nicola Yoon
Format: eARC
Pub. Date: September 1st 2015
Source: Delacorte Books for Young Readers



Book Description:




My disease is as rare as it is famous. Basically, I'm allergic to the world. I don't leave my house, have not left my house in seventeen years. The only people I ever see are my mom and my nurse, Carla.

But then one day, a moving truck arrives next door. I look out my window, and I see him. He's tall, lean and wearing all black—black T-shirt, black jeans, black sneakers, and a black knit cap that covers his hair completely. He catches me looking and stares at me. I stare right back. His name is Olly.

Maybe we can't predict the future, but we can predict some things. For example, I am certainly going to fall in love with Olly. It's almost certainly going to be a disaster.






Review:

★★★★


This book has such an interestingly done concept. It led me to thinking; what would I do if I became smitten with a boy and I couldn't leave the house? Of course I have no such answers, but it jumpstarted a bunch of scenarios and questions. I was hooked on this book within a few pages, and I couldn't put it down until it was over.

First, let's talk about the characters. I loved them. I appreciated that they were diverse. It's worth noting that I knew the main character, Madeline, wasn't going to be Caucasian because she described Oliver as being white. I found that fascinating and it goes to show the lack of diversity in writing because, I can't remember the last time I read a character description that said they were white. I always assume. So, points to this book for making me think about this, and for including a mixed race female lead character. As for Madeline herself, I appreciated how smart she was, and that she was always making book references. That's a girl after my own heart. I am also devastatingly in love with Oliver. It's no mystery to me why Madeline was in insta-like. This annoys me a little bit in books, but in this case, I'll make an exception. He's from a broken home but has a charming smile and is spontaneous. One of him to go, please.

The main plot twist was pretty predictable, though. I caught it within a few pages, thanks to a favorite film of mine entitled "Repo: The Genetic Opera". Regardless, it was an interesting plot idea, and I feel that Yoon did it well. It had a mix of really good righting and a sense that she did her homework on Madeline's illness and the consequences of having it. I also really liked that the prose of the novel was interspersed with Madeline's little doodles and diary pages. It shook things up a bit and was a nice change of pace.

What I didn't like, was the ending. I'll talk about this vaguely as to avoid spoilers. The ending felt too rushed and too sudden, and I was left with no closure. It felt like a cop out wrap up of "oh all is forgiven close the curtains", and I don't think that's realistic. I was expecting a more dramatic resolution of drama and anger and consequences, but I wasn't given that, and it left me disappointed with no more pages. If I had just been given a little bit more of a conclusion, I think it would have been a perfect rating, but I just can't get over that feeling of disappointment.

That said, it's worth reading for most of the plot, and for the characters. I hope that you fall in love with Oliver just as much as Madeline and I did, and that you'll cheer on Madeline to overcome illness and take a chance on life. I recommend this for fans of young adult romance who don't mind a little instalove, fans of bookish and diverse characters, and fans of books that circle around medical illness.

I received a copy of this book in exchange for my honest review. Thank you.