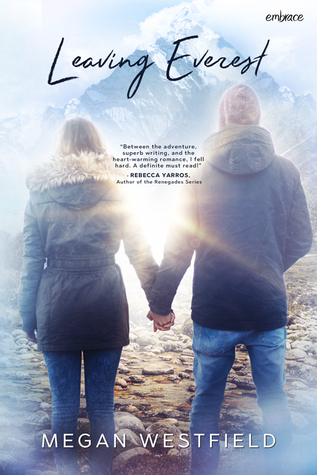 Title: Leaving Everest

Author: Megan Westfield

Pub. Date: February 19th, 2018




Book Description:




Twenty-year-old Emily Winslowe has had an adventurous upbringing. Daughter of a Himalayan mountain guide, she has climbed Mount Everest and other peaks most Americans only dream of. But for all her mountaineering prowess, she's lacking some key experiences. Namely, guys. Especially one guy in particular—Luke Norgay, her childhood best friend who she hasn't seen since he left for college in the United States two years ago.

Luke unexpectedly reappears as a guide just in time for the Everest climbing season. He's even more handsome than she remembers, and that something that had been building between them during their last season together is back in front of them, bigger than ever.

The problem is, there's a detail about Emily's past that Luke doesn't know. It's the reason she ended up in the Himalayas in the first place...and the reason she must make it to the summit of Mount Everest this year. It's also the reason she would never consider following him back to Washington after the climbing season ends.

But first, they'll have to survive the mountain.






Get It Here:

Entangled

About the Author:
Megan Westfield grew up in Washington State, attended college in Oregon, and lived in
Virginia, California, and Rhode Island during her five years as a navy officer. She is now a
permanent resident of San Diego, along with her husband and two young children. Aside from
writing and her family, her great passions in life are reading, candy, and spending lots of time
outside hiking, skiing, camping, climbing, running, and biking.
Connect with Megan Westfield and learn more about her upcoming books at
www.meganwestfield.com.

Website | Blog | Twitter | Facebook | Instagram | Pinterest | Goodreads | Connect



Title: Straight Up Irish

Series: Murphy Brothers #1

Author: Magan Vernon

Pub. Date: February 19th, 2018




Book Description:




I need a wife if I want to help save my family's billion-dollar pub empire. There's just one problem: I never plan on marrying. So, I need someone who understands that this is just another business deal. I don't do commitments. And my brother's executive assistant, Fallon Smith, fits that bill.

Fallon needs help with her grandmother's expenses, and her pretending to be my fake wife is a way we can make that happen. She's not my biggest fan, but we can help each other and then go our separate ways. That she's beautiful and I enjoy spending time with her–doesn't matter. When all of this is done, she's heading home to America, and I've got a company to run.

A fake wedding and a whole lot of whiskey. What could go wrong?






Get It Here:

Entangled

About the Author:
Magan Vernon has been living off of reader tears since she wrote her first short story in 2004.
She now spends her time killing off fictional characters, pretending to plot while she really just
watches Netflix, and she tries to do this all while her two young children run amuck around her
Texas ranch.

Website | Goodreads | Twitter | Facebook | Newsletter | Reader Group



Title: Cinderella and the Geek

Series: British Bad Boys

Author: Christina Phillips

Pub. Date: February 19th, 2018




Book Description:




From Christina Phillips a sexy, new romance with a hero you won't forget…

I'm not looking for love or a Happily-Ever-After because I know how that ends. I just need to concentrate on my degree and look after myself. But there's something about my boss, Harry, I can't resist. It's crazy since he's so hot and smart it should be illegal.

And then, just like Cinderella, I have my night at the ball and a midnight kiss, and for a week all my sexy daydreams come true. That fake date changes my life in a way I could never imagine. It turns out, Harry wants me too.

But I'm off to pursue my dreams, and he's taking his business to the next level. There's no way this fairytale has a happy ending, but that doesn't keep me from wishing for it.






Get It Here:

Entangled

About the Author:
Christina Phillips is an ex-pat Brit who now lives in sunny Western Australia with her high school
sweetheart and their family. She enjoys writing contemporary, historical and paranormal
romance where the stories sizzle and the heroine brings her hero to his knees.
She is also owned by three gorgeous cats who are convinced the universe revolves around their
needs. They are not wrong.

Website | Twitter | Facebook