Every once in a while on here, I'll be posting my fiancée Emily's reviews on here. She doesn't blog on her own, but sometimes she needs to let her book feelings out in the world, and that's where Bitches n Prose steps in. (She also drew that banner. Ain't she cute?)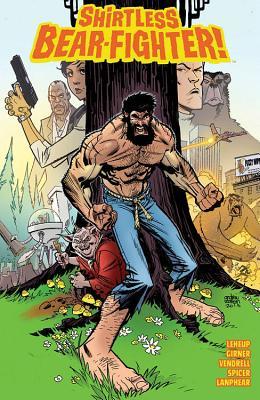 Title: Shirtless Bear-Fighter!
Illustrators: Nil Vendrell, Mike Spicer
Authors: Jody LeHeup, Sebastian Girner
Format: Paperback, 164 pages
Pub. Date: December 6 2017
Source: Goodreads First Reads



Book Description:




"After being betrayed by the bears that raised him, the legendary SHIRTLESS BEAR-FIGHTER wanders the forest he's sworn to protect, fist-fighting bears, eating flapjacks and being the angriest man the world has ever known!

When wild-eyed, super-strong bears attack the citizens of Major City, Shirtless ventures into the human world to do what he does best...PUNCH THOSE BEARS IN THE FACE! But all is not as it seems. Someone is manipulating Shirtless...and only by confronting the demons of his past can Shirtless hope to save his future!

A heart-filled, hilarious, tall tale for the ages...you don't want to miss SHIRTLESS BEAR-FIGHTER!

Collecting SHIRTLESS BEAR-FIGHTER! #1-5"






Review:

★★★★★

In a world where bears run amok all around the globe, the world turns to one man.... SHIRTLESS BEAR-FIGHTER! Betrayed by the bears who raised him, Shirtless has vowed to fight ALL bears and protect the forest in this timeless epic adventure.

Y'all, I was so excited when I received this book in the mail that I started reading it immediately. The bear punching action started only a few page flips from the cover, in all of Shirtless's naked, pixelated dongle glory. This man does not like to wear pants, he lives in a bear-house, and god help you if call his flapjacks "pancakes". Shirtless has a heartbreaking past akin to every vigilante superhero. It's like Wolverine and Batman had a feral, bearded baby. I love him.

Enter FBI agents Burke and Silvia, who come to the forest to ask Shirtless to fight the bearrorists who are attacking the nation. Burke, the senior agent in command, has been in more wars than humanly possible, and he will definitely make you question his age and his sanity when he recounts the battlefields he's fought on. The only one who seems as confused about Burke's 14 American Conflicts is agent Silvia, a young agent keen on playing by the book and following orders until she learns her instincts are more important.

There is a malicious force behind the bear attacks, someone who has been feeding them magic bacon to control them, and bend their bear-will to his own. His motives are for shitty revenge against Shirtless, all for the growth of his three-ply TP company.

All in all this was a fantastic read. There was always something to make me laugh on pretty much every page. The whole story seems to be parodying big name superheroes while also creating a superhero. It's hilarious and I'm 100% here for more Shirtless adventures.

I give this book 5 out of 5 bear-stars.

I received this copy in exchange for my honest review.