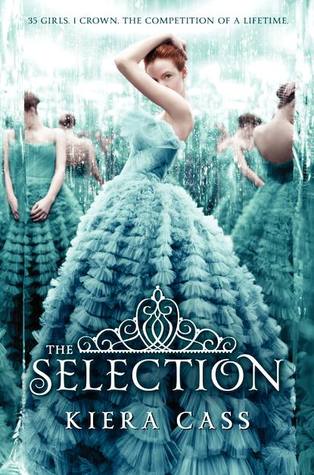 Title: The Selection
Series: The Selection #1
Author: Kiera Cass
Format: paperback ARC, signed
Pub. Date: April 24th 2012
Source: Won



Book Description:




For thirty-five girls, the Selection is the chance of a lifetime. The opportunity to escape the life laid out for them since birth. To be swept up in a world of glittering gowns and priceless jewels. To live in a palace and compete for the heart of gorgeous Prince Maxon.

But for America Singer, being Selected is a nightmare. It means turning her back on her secret love with Aspen, who is a caste below her. Leaving her home to enter a fierce competition for a crown she doesn't want. Living in a palace that is constantly threatened by violent rebel attacks.

Then America meets Prince Maxon. Gradually, she starts to question all the plans she's made for herself—and realizes that the life she's always dreamed of may not compare to a future she never imagined.






Review:

★★★★★

This is one of the best books I've read in the last year.

I was admittedly afraid to read this one, because SO MANY bloggers were talking about it; good, bad or otherwise. Hype makes me nervous. But I had a copy on my shelf and the time had come, and I'm so mad at myself that I waited so long to get into this story. It sucked me in hook, line, and sinker, and immersed me into the story line.

The characters were well written and well described. They were written unique from one another, and it was easy to keep track of who is who, despite the large cast of characters. By the end of the story, I was emotionally tied to America, Maxon, and Aspen. I cared so hard about what happened, and was emotional along with them on the roller coaster that is The Selection competition. The relationships between characters- be it romance, family, or friendship (or hatred, even) are well developed and evolve over the course of the story in a way that helps the plot.

Genre-wise, this book is kind of a hodgepodge of a lot of different things, but it works so well. It's definitely a heavy dose of dystopian science fiction a la Hunger Games, where there is One Good Place To Live And Thing To Be and a bunch of lessers who don't matter as much to the nation/society/kingdom. Not to mention the Girl Who Ain't Having It. There's a bit of fairy tale to it, as the girls wear beautiful gowns and compete for the love of the fair prince of the land. There's a guilty pleasure reality show component, because The Selection is like teenage The Bachelor: So You Wanna Be A Princess Edition. Which sounds awful but I love me some reality shows (I will deny this) and it works well.

The world building is also really good. I felt like I knew everything that was happening, and I wasn't left with any info-dumping to fill me in on this society, nor was I left with a million questions. It was a nice balance of the author's world design and things left to my own imagination. The dresses, the food, the mansion, they're all so gloriously described that I want to be there to see it all (I mean but also not, because, dystopia).

I will 100% continue the rest of this story. I can't wait to continue America's journey as it unfolds. I recommend it to fans of YA romance and dystopian fiction, as long as having a few common tropes won't bug you.