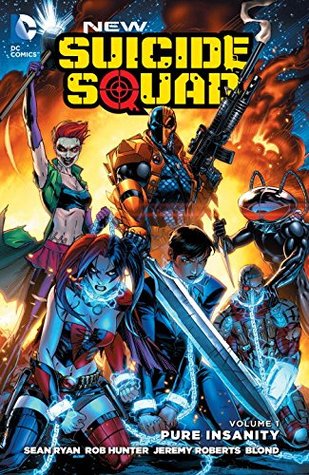 Title: New Suicide Squad, Vol. 1: Pure Insanity
Series: New Suicide Squad #1-8
Author: Sean Ryan, Jeremy Roberts
Format: Paperback, 192 pages
Pub. Date: July 21st 2015
Source: DC Comics



Book Description:




Setting the world's most dangerous super-criminals against the most insidious threats to national security: that's the idea behind the elite black-ops unit officially designated as Task Force X. It's perfect…on paper.

But the real world rarely goes according to plan. Threats evolve. Teammates turn on each other. Blood and betrayals flow like rivers. And that's why Task Force X is better known as the Suicide Squad.

Vic Sage aims to change the equation. Replacing Amanda Waller as the puppet-master of Suicide Squad's motley crew, he's introducing wild cards like Deathstroke and the Joker's Daughter to whip the existing team-Deadshot, Harley Quinn, and Black Manta-into shape. But the world's deadliest assassin and the Clown Princess of Crime have ideas of their own…and no explosive implants to keep them in line.

Can this new Suicide Squad survive-or will it implode before it even begins?

Collects issues #1-8






Review:

★★★

As I'm sure my regular readers and friends know, I'm a sucker for all things Harley Quinn related. When I got my copy of this collection, I was so excited. (No, seriously. I was on Skype with my girlfriend when it came in the mail and she'll attest that the weird pterodactyl-esque shriek that left my face was not human.) All in all, it was an alright collection.

Harley is a bad ass in this. There's nothing I love more than when good ole Harley is angry and out for blood. That's when I love her the best, and this collection has plenty of that going on. I adore the artwork and how she is portrayed in this series, and that alone is a surefire way to get me to keep reading the New Suicide Squad series.

I did think there was a bit too much going on over the course of this collection though. Pure Insanity is the name of this collection, and that is exactly what you can expect when you open this book: chaos. There are a million characters who come and go. For some of them, their appearance is made into a big deal/big part of the plot. Others seem to run on for a page, wave, and go, like a cameo where nothing really was happening. I really like how many characters were smooshed into such a short space, but I didn't feel that it necessarily always worked.

And then there's the Joker's Daughter. I'm pretty sure I'm supposed to not like her but damn it is so easy to hate on her. I'm not her biggest fan to say the least, and I wish there was more to her than running around talking about the skin on her face. Side note, that is a very, very strange sentence that I never thought I'd have to put in a book review, but there we go.

I'm not sorry I got it, and I'll keep it on my shelf. I'll likely keep myself invested with New Suicide Squad, but I won't be quite as giddy and excited for the next release.

I received a copy from DC Comics in exchange for my honest review. Thank you!