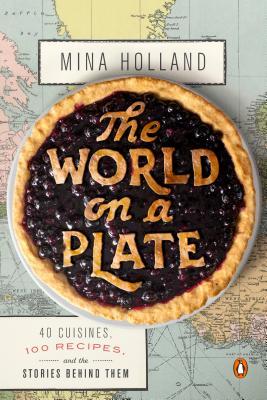 Title: The World on a Plate: 40 Cuisines, 100 Recipes, and the Stories Behind Them
Author: Mina Holland
Format: egalley
Pub. Date: May 26th 2015
Source: Penguin Books



Book Description:




Eat your way around the world without leaving your home in this mouthwatering cultural history of 100 classic dishes.

Best Culinary Travel Book (U.K.), Gourmand World Cookbook Awards

Finalist for the Fortnum & Mason Food Book Award

"When we eat, we travel." So begins this irresistible tour of the cuisines of the world, revealing what people eat and why in forty cultures. What's the origin of kimchi in Korea? Why do we associate Argentina with steak? Why do people in Marseille eat bouillabaisse? What spices make a dish taste North African versus North Indian? What is the story behind the curries of India? And how do you know whether to drink a wine from Bourdeaux or one from Burgundy?

Bubbling over with anecdotes, trivia, and lore—from the role of a priest in the genesis of Camembert to the Mayan origins of the word chocolate—The World on a Plate serves up a delicious mélange of recipes, history, and culinary wisdom to be savored by food lovers and armchair travelers alike.






Review:

★★

I'm sure it's absolutely no surprise by this point that I love food. Reading about it, cooking it, eating it, traveling to find it. I am constantly trying to learn new things about different ingredients and cuisines, which is why I thought this book would be perfect. Plus, the cover is absolutely gorgeous. However, I was overall left disappointed with this book.

This collection of facts and recipes is divided first by continent, then by country, then by either the city or the region. I did appreciate the specificity, but I thought the layout was needlessly complicated. But I appreciate the organization factor, so I wasn't bothered too much by this.

Part of why I didn't enjoy reading this is the tone. Often times, when I read memoirs or food-travel books, the tone sucks me into the story, and makes me feel like I'm with them, or makes me want to be with them, enjoying the food alongside them. This wasn't the case for The World on a Plate. The overall tone was snobby and a bit condescending. This was heightened by the use of uncommon ingredients without much explanation, or without much information on how to substitute or work around those ingredient restrictions.

I also wasn't really a fan of the representation of regions by their dishes. I can only speak for America, since I have only lived in this country. But if you were to represent our nation's diverse set of cuisines, there is way more than just Louisiana and California- the only two states included in our section. Similarly, there's bias shown in the included recipes, where she states that she doesn't like ingredients of these traditional dishes, and offers HER take on it- which isn't always traditional at all, so I'm not too sure on the authenticity of some of the dishes that are in here. Plus, some of the representative dishes don't really need recipes at all- things like salad, baked cheese, and tapenade.

It's clear that this book is way more about the ingredients than the travel itself, but somehow it manages to still focus more on fact than the recipes themselves. Like I said, there are few advise pieces on how to adapt or substitute things, and there are also no pictures, which is something that I look for in each cookbook I purchase. It's true that there are 100 recipes in here, but I felt like they weren't very well thought out or appreciated to the extent that the text in between was.

That being said, there are recipes included in this collection that I would definitely love to make and try. Some of these include Upside Down Plum Cake (France), Borscht (Eastern Europe), and Coconut Fish Curry (India). Despite the lack of development and pictures, this book still includes a wide variety of recipes from different places, using different ingredients, and that require different levels of skill. Some are quite complex, while salads and the like are quite basic. I appreciate this amount of difference.
no pictures

There's lots of good ingredient facts and information as well, including a list of further reading which I will have to take a closer look at.

I think this is a nice gift for the well seasoned traveler or Eat, Pray, Love fan, but not so much for those wanting more of a standard cookbook. I feel new cooks will be put off by the tone and uncommon ingredients, while the more seasoned cooks will find new appreciations for different cuisines.

I received this book in exchange for my honest review.