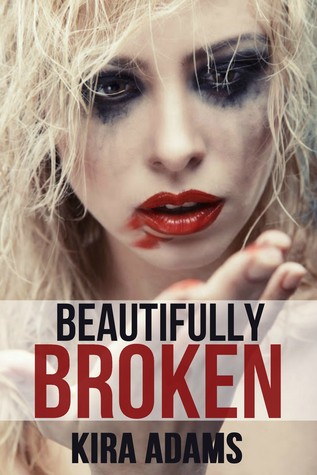 Genres: New Adult, Contemporary Romance
Jacqueline Blunt hasn't had an easy life. In fact, she's had anything but. From a drug addicted mother to being bounced around in foster care, Jacqueline longed for one thing—normalcy. Lee Bennett had everything he could ever want—girls falling all over him, a dream job, money. The one thing he was missing? Passion.



Sometimes the ones worth fighting for don't know their worth. Sometimes being broken is beautiful. This is a story of strength, courage, hope, faith, and love. This is Beautifully Broken.
Only 99 pennies during the blitz!

Jacqueline
I was going to kill Lee—I was going to murder him and bury the body.

It was surprisingly my first offense and I was let off with a fine. Lee was not as lucky—turns out he had a bit of a record—it only angered me more.

Lee had some kind of charm—he had somehow manipulated his way out of a short jail stint with a few choice words and his killer smile. I had to admit—he had his ways. He was slapped with a fine like me and we were sent on our way.

"So how about that for a first date?" Lee boasted as we drove away from the officer and the park.

I was seething and couldn't even see straight from the rage. My response was a fresh and strong glare in his direction. I knew if I opened up my mouth it wouldn't be pretty.

"Oh, I get it…you're giving me the silent treatment," he paused for effect. "I guess you're entitled to that this one time."

I glanced over at him, unable to hide my shock—then back at the road—still silent. It was the calmest I had been in days—I was proud of myself.

"Come on, at least admit it…you had fun," Lee whispered, a hint of playfulness dancing behind his eyes.

I tried to fight my smile…but I couldn't help it—if this was the way things were beginning, I could only imagine the rest of his trip.

"See? I knew it!" I wanted to slap the smirk right off his face. This was not what I had signed up for.

"Which hotel are you staying at?" The coolness and indifference in my voice could shatter mirrors.

"So it's going to be like that?" Lee replied in a surprised tone.

"Like what? You almost got us arrested back there…next I'm sure my actual life will be in danger." I didn't bother tearing my eyes off the road that time.

"Oh, come on—Parker always made you seem like such a risk taker," Lee said playfully.

The mention of Parker's name had me going through a whirlwind of emotions.

"You spoke to Parker about me?" I tried to mask the nervousness in my voice. I hadn't taken the necessary time to mourn his absence in my life and wasn't prepared for this.

Too late. Lee's voice sounded dejected. Suddenly, I was kicking myself mentally in the face. I hadn't meant to hurt his feelings. But the fact that he was disappointed at all had to mean something right?


Krista Pakseresht has always been a dreamer. From the first time she opened her eyes. Creating worlds through words is one thing she is truly talented at. She specializes in Young adult/New adult romance, horror, action, fantasy, and non-fiction under the pen name Kira Adams.



She is the author of the Infinite Love series, the Foundation series, the Darkness Falls series, and the Looking Glass series.







a Rafflecopter giveaway